Diane Furstenberg bags Talley Lifetime Achievement Award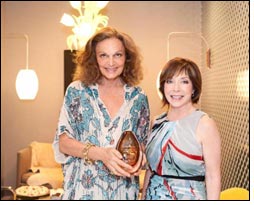 Savannah College of Art and Design President Paula Wallace and Vogue Contributing Editor Andre Leon Talley presented fashion designer Diane von Furstenberg with the Andre Leon Talley Lifetime Achievement Award at the university's annual fashion show Saturday, May 15. The event is one of the most prestigious student fashion shows in the United States, featuring nearly 5,000 audience members in attendance either in person or online through live Web streaming this year.

In 2000, SCAD honored Talley with a Lifetime Achievement Award for his achievements in the fashion world. The award thereafter bore Talley's name and has been presented for a decade now to fashion legends Oscar de la Renta, Karl Lagerfeld, Miuccia Prada, Tom Ford, Vera Wang, Marc Jacobs, John Galliano, and most recently Isabel and Ruben Toledo. In 2004, Zac Posen was honored with the Andre Leon Talley New Look Award.

Talley lauded von Furstenberg, a lifelong friend with whom he speaks everyday, for her numerous charitable contributions, commitment to her family, and talents as a designer. "We grew up in fashion, like twins," he said.

Furstenberg was noticeably moved by Talley's introduction as she accepted the award. "Andre, thank you for your wonderful comments. I want to thank you for thinking of me for this award. I also want to say to all of you that you are all so lucky to be at this college--it really is quite amazing."

Hailing from Brussels, Belgium, von Furstenberg first arrived in the fashion world in 1972 with her iconic wrap dress, the seed of what is today a full fashion house. By 1976, von Furstenberg had sold millions of her dresses, coming to symbolize female power and freedom to an entire generation. In 1997, after a hiatus from fashion, she reemerged on the New York fashion scene with the re-launch of the dress that started it all and began transforming her company into the global luxury lifestyle brand it is today. The impact of this garment to women and the fashion industry is so profound that it is now part of the Costume Institute of the Metropolitan Museum of Art and the Smithsonian.

SCAD has the largest and most comprehensive School of Fashion in the world, and offers more degree programs and specializations in fashion and accessory design than any other art and design university. Encompassing fashion design, accessory design, fashion marketing and management, luxury and fashion management, and menswear, the SCAD School of Fashion prepares students for the practical and professional needs required in today's global fashion industry through innovative design combined with state-of-the art technology, anchored in creative thinking.

Complementing classroom instruction, the SCAD Style Lab mentorship program in the School of Fashion affords students a realistic glimpse of working industry standards, offering direction and inspiration for a select group of students' senior collections through one-on-one critiques and guidance from concept through production. Mentors have included Brian Wolk and Claude Morais of Ruffian, Yigal Azrouel and Lars Nilsson. This year, Zac Posen, Catherine Malandrino, Bryan Bradley and Angel Sanchez mentored a select group of SCAD students.