MANGO launches its F/W collection with a spectacular catwalk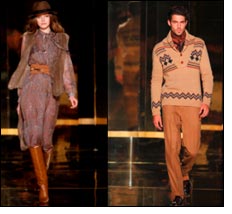 MANGO launched its Fall/Winter 2010 men's and women's collections at Madrid's Círculo de Bellas Artes. The MANGO chairman, Isak Andic, welcomed the numerous celebrities who attended the catwalk, one of the most eagerly-awaited events of the season, to discover the Spanish firm's latest proposals.

This important fashion event was also attended by numerous celebrities from the world of society, film, music and television.

Among others, on view were Poppy Delevigne, Elettra Wiedemann, Naty Abascal, Covadonga O'Shea, Genoveva Casanova, Rafa Medina and Laura Vecino, Luís Medina, Cari Lapique and Carla Goyanes, Boris Izaguirre, Jaime de Marichalar, Álvaro de Marichalar y Ekaterina, Olivia de Borbón, Carla Royo Villanova, Konstantin of Bulgaria, Alejandra de Rojas, Patricia Olmedilla and Gonzalo de la Cierva, the Duchess and Duke of Terranova, José Miguel Fernández Sastrón, Amelia Bono, María García de la Rasilla, Arancha de Benito, Natalia Álvarez, Paloma Lago, Alaska and Mario Vaquerizo, Bebe, Ton Pernas and Maite de la Iglesia, Almudena Cid, Gema Ruiz, Mónica Martín Luque, Toni Acosta, Nerea Garmendia and Jesús Olmedo, Marta Nieto, Kira Miró, Carla Nieto, Marc Clotet, Amanda Hearst, Alba Carrillo, Helen Lindes, Lorena van Heerde and Matilde Borromeo.

During the event, the names were announced of the ten finalists of the third edition of the international event, the El Botón-MANGO Fashion Awards, who are competing for 300,000€ in prize money, the largest prize awarded to date in an event of this kind. From the 50 projects selected from over 200 received in the first round, the Jury has selected the 10 finalists with the most talent and international projection, who will now compete to be proclaimed the winners of this edition. The finalists are: Motonari Ono from Japan, the Spanish duo Zazo y Brull (made up of Javier Zazo and Clara Brull), the British duo of Matthew Cunnington and John Sanderson, the Belgians Harvey Bouterse and Helena Lumelski, Rocco Iannone from Italy, the Italian duo Leitmotiv (made up of Fabio Sasso and Juan D. Caro), the British Jean Pierre Braganza, Michael Sontag from Germany and the Austrian designer Isabelle Steger.

After the catwalk, MANGO held a party on the spectacular terrace of the Círculo de Bellas Artes, which featured an exclusive performance by Coco Sumner. The guests enjoyed a special cocktail for the occasion, served by Caritina Goyanes' famous catering service Six-Sens.

DECLARATIONS
Elettra Wiedemann
Elettra Wiedemann was born and grew up in New York. The daughter of the actress and model Isabella Rossellini and John Wiedemann, she studied in Boston. Her first appearance was in the German edition of Vogue. Since then, she has appeared on numerous covers of Vogue, Teen Vogue, Glamour, Ten, Harper's Bazaar, Elle, Grazia, the Italian edition of Vanity Fair and GQ, among others. She has also worked with top photographers and has appeared on the catwalks of New York, Milan and Paris for designers such as Catherine Malandrina, Cartier, Diane von Furstenberg, Custo Barcelona, Salvatore Ferragamo, Alberta Ferretti and Morillo, among others.