DHL eyes opportunities in fashion logistics market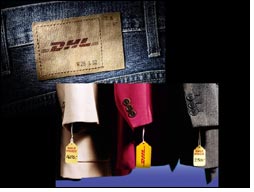 DHL is strengthening its capabilities in China to capitalize on the opportunities in the fashion and apparel logistics industry in China, estimated to be worth US$7.5 billion per annum.

The company is enhancing its supply chain solutions, infrastructure and human resources to cater to rising demand for faster, more efficient door-to-door distribution in the multi-billion US dollar industry. "China's fashion and apparel industry is undergoing fundamental changes and has evolved significantly since the start of the global economic slowdown," said Kelvin Leung, CEO, North Asia Pacific, DHL Global Forwarding.

"Pointing to expected compounded annual growth in China's domestic apparel retail market of 21% through 2014 from US$305 billion last year1, Leung added, "Rapid urbanization is continuing to expand the potential market for fashion retailers who are facing shorter product cycles and margin pressures from fierce competition from South Asia, a key sourcing base for the industry."

China is a key growth driver for the industry in North Asia Pacific, with the region producing and exporting more than half of the world's fashion and apparel goods. North Asia Pacific made up 66% of the global airfreight export last year, while ocean freight constituted 54% of the global fashion and apparel export market.

While China remains the world's largest textile and apparel exporter, with 6% CAGR in airfreight and ocean freight exports till 2014, the domestic retail market is also growing rapidly.

These trends are contributing to the strong growth in the "organized retail" sector. Western-style retailers are growing in the bigger cities, supported by a large number of high-income Chinese with a significant amount of discretionary spending. These retailers already account for 20% of the total retail market and is expected to grow to over 40% by 20145.

Luxury shopping is also expanding quickly, and is forecast to grow from US$9.4 billion by the end of last year to US$14.6 billion within five years, making China the world's biggest luxury market6. "It is clear that large brand owners are buying back and acquiring retailer and distribution channels in the local markets," said Steve Huang, CEO, China, DHL Global Forwarding.

"This increased retail footprint demands new supply chain models where distribution centers in China are needed. Responding to the growing demand, we have expanded our warehousing and distribution network beyond first-tier cities, and are penetrating deep into second- and third-tier cities, and will be investing to enhance our expertise and capabilities in the fast-moving industry."

Since 2009, DHL has invested in six Fashion & Apparel Centers of Excellence across the Asia Pacific, including one in Hong Kong. These centers are responsible for developing tailored solutions and providing consultancy services to help customers better manage the product flow further upstream in their supply chain. A similar center is expected to be ready in Shanghai by Q4 2010.