Young Fashion posts rise in exhibitor numbers - CPM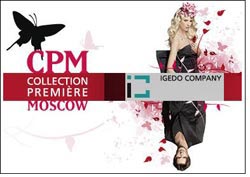 The countdown has started – in less than 100 days the summer edition of CPM will open its doors. From 6 – 9 September 2010 some 1,300 collections will be presented on over 44,000 m2. Exhibitors here will offer visitors from over 50 countries a comprehensive overview of the 2011Spring/Summer trends.

Held for the 15th time now CPM – Collection Première Moscow is the most important orders platform for Eastern Europe where exhibitors from almost 30 countries will once again be showcasing their ranges to international buyers.

"After a difficult year in 2009 the Russian clothing market is now clearly back on the road to recovery," explained CPM Project Manager Christian Kasch. "This is also reflected in our current registration figures. We are seeing a clear rise here in the number of exhibitors. The Premium segment is already as good as fully booked. We have now adapted even more to exhibitors' needs and created a new look and appearance to the fair with a special guidance system," Kasch continued.

The quality of exhibitors has also risen again significantly in the CPM Kids and Young Fashion segments. Both segments are posting rises in exhibitor numbers. Another special feature is located in the French pavilion featuring its own dedicated menswear section for the first time now. These increases in exhibitor numbers in the different segments are evidence of the high standing enjoyed by CPM on the Russian market.

Exhibitors at the 15th CPM – Collection Première Moscow include...

...in the Premium segment: Christina Effe, Yudashkin, Gabi Lauton, Ischiko, Peter O. Mahler, Sarah Pacini and a new exhibitor from the USA Rosemary Creations

...in the CPM Kids segment: GF Ferre, Iceberg, Moschino, Andrea Montelpare, Naturino, IKKS Kids, Airfield, AnnaRita N., Carlo, Pignatelli Junior, Catimini, Mayoral Junior, Boboli, Sterntaler, Obermeier, Kanz + Steiff, Brums

...in the Young Fashion segment: rich & royal, Madonna, VSCT, H.I.S., Phard, Ringspun, Seventy

...from Germany: Steilmann, Rösch, Daniel Hechter, Lagerfeld, Bugatti, Milestone, Pierre Cardin, Olymp, Camel Active and Alberto

...from France: Didier Parakian, Lauren Vidal, IKKS, Fuego and new in the menswear segment: Azzaro Ecce, Wesley, Max Ty, Nina Ricci + Pierre Clarence

...from Spain: Jota + GE, Isabel de Pedro, Caramelo, Alba Conde, Sita Murt, Escorpión

...from Finland: Finnjarelja, Nanso Group

Russian Design Talents present their Collections
No CPM would be complete without the talented Russian designers sponsored by the Düsseldorf – Moscow axis of fashion, an initiative supported by the Igedo Company. These designers will once again be featured in the Premium segment in Hall 8.1. Those receiving sponsorship this season are: Erica Zaoints, Lena Tsokalenko, Cyrille Gassiline and MESTO with the designers Katerina Levina, Arinov & Fedyshin, Love Corporation and Kuba Collaboration. In their own fashion show the designers will present their current collections to the specialist audience.