Raymond Weil's future plans for India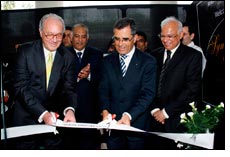 RAYMOND WEIL in association with Johnson Watch Co., Connaught Place, New Delhi, inaugurated its first exclusive boutique in India, the biggest RW boutique in the world, with an area of over 700sq.ft. His Excellency Mr. Philippe Welti, Swiss Ambassador along with Mr.Olivier Bernheim, President & CEO Raymond Weil, inaugurated the boutique. Mr Daniel Freihofer, Counsellor of Economic and Commercial Affairs also graced the occasion.

RAYMOND WEIL is present across the globe, in 90 countries and 3500 points of sales, and has enjoyed spectacular and constant growth in every market. It is difficult to name one best market. We have several best markets where our Brand awareness is particularly strong: USA (where we have established our own distribution company in 2009-RW USA Corp.), UK, Middle East, China and India (where we have also just created our own subsidiary).

Mr.Olivier Bernheim, President and CEO, RAYMOND WEIL says, "RW and the Indian market is a longstanding relationship! Our Brand was the first Swiss watch Brand imported in India thanks to my father-in-law, Mr Raymond Weil, and it was…30 years ago! Most of today's Indian luxury watch dealers were introduced to selling luxury watches thanks to RW and vouch for this openly."

India is a very fast-moving market with huge potential in terms of economy and development. Indian customers are becoming more and more knowledgeable and great watch connoisseurs.

We have realized the importance of this critical market of the future; a market, which has been cultivated by, and of great importance to, RAYMOND WEIL since 1980. In order to achieve our objectives of Brand's development and to ensure a sustainable growth throughout this mature market, we are happy to make the following announcements:

• 11 June, 2010: Opening of the first Shop in shop in Hyderabad at Kamal Watch-store D-1, Dilshad Plaza, Sultan Bazar, Hyderabad A.P.
• 13 June, 2010: Creation of our own Indian subsidiary, RW India Pvt. Ltd. with an office based in Bangalure, No 3302/k, 12th A Main, Indiranagar, Bengalure.
• 13 June, 2010: Opening of the first Shop in shop in Pune at C.T. Pundole & Sons-store, 262/263 M G Road Pune 411 001.

Brand's Future Plans in India
RAYMOND WEIL is more than ever committed to expanding in India where our Brand has been sustaining a continuous growth over the last 30 years. Our Brand was one of the first Swiss luxury watchmakers to enter the Indian market. Our aim is to maintain our Brand awareness and our presence in the most distinctive and selective points of sale.

Brand's Value
RAYMOND WEIL stands out for its dynamism and pioneering character, constantly striving to create timepieces, which reflect the Brand's values of independence, creativity and watchmaking savoir-faire – at attractive prices.

The strategy adopted in recent years has assuredly contributed to RAYMOND WEIL's impact on the watchmakingworld. Key factors in the firm's success include the constant renewal of its product range, with the introduction of new, increasingly sophisticated mechanical timepieces, strengthening collections at the lower end of the price-range, a wider-reaching communications strategy and the launch of the RW Club (the first club to be set up by a luxury watchmaking brand).