North America to have unmatched innovation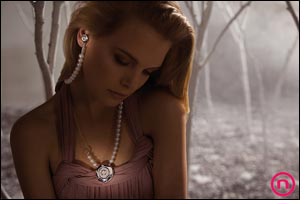 novero, a company passionate about creating inspiring communication pieces, has debuted its highly anticipated Victoria Collection in North America. The new line combines the beauty of finely crafted jewelry with the ease of hands-free communication technology to become the first accessories of their kind. The full range of designs in the Victoria Collection were presented at the Altman Building in New York City as part of an elegant event attended by VIPs from the worlds of fashion, retail and media.

On display were samples from five different styles of the Victoria Collection which will be offered at high-end specialty stores and select retail locations in early fall. Also on display was the Luxury collection which features semi-precious stones and pearls.

Global Appeal
The evening in New York City was the latest stop in a global tour of the Victoria Collection which commenced in London last spring and was most recently shown in Düsseldorf, Germany.

"Audiences around the world have been drawn to the Victoria Collection with a level of enthusiasm and excitement even greater than we anticipated," said Razvan Olosu, CEO, novero. "At novero, we set out to change the way technology plays a part in our lives. This is the start of a new era inspired by new ideas resulting in a first for the worlds of fashion, design, art and communication."

Design
As a collection, Victoria imbues contemporary design and timeless materials with unmatched Bluetooth innovation to deliver more than a hands-free earpiece. The result is a line that encompasses everything from pure gold or silver with lapis lazuli and diamonds, to the very latest in communication beauty.

Victoria Lapis
Lapis lazuli is a breathtaking stone, prized since time began for its intense shade of blue, and dusted with distinct, golden flecks of pyrite. The lapis is a stone set in history, hand polished to the highest degree, and framed in beautiful, brushed silver.

Designed to sit low and long around the neck, its contemporary design culminates in a six thousand year old journey from precious blue, to precious Bluetooth.

Victoria Pearl
A pearl on its own may just be a pearl, but in the hands of novero's craftsmen, they are enchanting, enthralling, and timeless objects.

Re-crafting this classic accessory for the 21st century, the "matinee length" necklace is hand made beautifully in gold, and polished to the highest standards.

Victoria Stripes
Stripes is molded from contemporary, black silicone, but hatched with bright shafts of traditional, brushed gold. Stripes is the embodiment of the spirit of Victoria; the drama, the elegance, the love of beauty, the thrill of innovation – all side by side.

The piece wraps close to the nape of the neck, like a conventional choker, yet plunges past the neckline to a round, polished pendant.

Victoria Wave
Wave speaks a modern, minimalist language of its own. It is the complex, encased in simplicity.