Sneaker brand Keds sponsors Whitney's Summer Season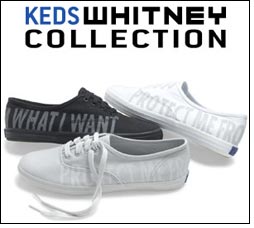 Keds, the all-American original sneaker brand, announced its sponsorship of the Whitney Museum of American Art's summer season, July 1-September 26, which includes Christian Marclay: Festival, an exhibition of the work of this groundbreaking artist known for the distinctive fusion of sound and image in his art. Activated by more than 100 live daily musical performances, the Whitney show explores Marclay's approach to the world around him with a focus on his "scores." Some 50 renowned instrumentalists and vocalists, a veritable Who's Who of the progressive and experimental music scene of the past three decades, are scheduled to interpret the scores, enabling museum audiences to experience Marclay's work brought to life.

In Celebration, Keds creates the Exclusive Keds Whitney Collection with artists Jenny Holzer, Laura Owens and Sarah Crowner, available Exclusively at Bloomingdale's in July, beginning with the Holzer collection

Keds is uniquely positioned as "America's Blank Canvas," inspiring creative possibilities and a platform ready to take on a range of unique artistic designs. In celebration of this exciting sponsorship, Keds is launching the KedsWhitney Collection with iconic Champion styles featuring designs by celebrated conceptual artist Jenny Holzer, as well as painters Laura Owens and Sarah Crowner -- all artists who have exhibited their work during the famed Whitney Biennial.

"We are delighted to be collaborating with Keds this summer," said Adam D. Weinberg, the Whitney Museum's Alice Pratt Brown Director. "Keds' commitment to today's brightest contemporary artists and musicians is extraordinary, and we are extremely pleased that Keds has taken such a prominent role in supporting innovative projects like Christian Marclay: Festival."

The KedsWhitney Collection by Jenny Holzer, who uses words in a range of media such as LED signs, stone benches, and T-shirts, will launch exclusively at select Bloomingdale's stores nationwide, as well as on bloomingdales.com and keds.com starting in July 2010 along with the Keds Premium Line. All Keds' profits from Jenny Holzer's line will benefit the Whitney Museum of American Art. The collection and partnership will be highlighted in the Bloomingdale's 59th Street windows running along Lexington Avenue in New York City for two weeks beginning July 8th. The collections by Laura Owens and Sarah Crowner will follow in September. A portion of the Keds profits from the sales of these shoes will benefit the Whitney Museum of American Art.

"It's great that Keds and the Whitney are friends," states Jenny Holzer. "I have a renewed respect for shoe designers."

Holzer, Owens and Crowner created a fresh take on the Keds classic Champion silhouette by drawing inspiration from their own design influences. Jenny Holzer's limited-edition styles will feature a phrase from one of her signature text series, Survival: PROTECT ME FROM WHAT I WANT applied to theChampion, expected to retail in the range of $70 - $75 per pair.