ALDO join forces with JCPenney for 'Call It Spring'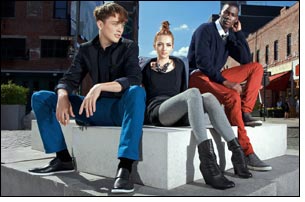 J. C. Penney Company, Inc. and ALDO USA, Inc. announced plans for JCPenney to become The ALDO Group's exclusive department store retailer in the United States for its Call It Spring brand. The ALDO Group, a leading international retailer with operations in more than 1,500 stores in over 50 countries, is world-renowned for its reputation in creating fashionable footwear and accessories.

Dramatically expanding JCPenney's modern footwear and accessory assortment, Call It Spring will launch as a unique shop-within-a-shop concept - over 600 sq. ft. shop in Women's and over 400 sq. ft. shop in Men's -- providing JCPenney customers an extensive collection of over 300 styles of on-trend footwear and accessories - all at compelling prices. The concept is set to launch this fall in JCPenney's Manhattan store, expand to 100 JCPenney stores and on jcp.com in spring 2011, and then to an additional 500 stores in fall 2011. JCPenney will be the only department store retailer to carry the Call It Spring collection outside of The ALDO Group's specialty stores.

"By giving our customers high-quality, specialty store styling we continue to heighten our competitive advantage and create a sense of discovery within our stores," said Myron E. (Mike) Ullman, III, chairman and chief executive officer of JCPenney. "Call It Spring is an exciting addition to our footwear and accessories collections and will further establish JCPenney as a style authority and first choice destination for the modern customer. We look forward to working with the exceptionally talented team at The ALDO Group to bring their extraordinary brand to our customers."

Similar to the highly successful Sephora inside JCPenney beauty boutique, the Call It Spring shop-within-a-shop concept is part of JCPenney's overall commitment to creating unique selling environments, providing customers with even more reasons to shop JCPenney than ever before. This will continue with the launch of MNG by Mango, JCPenney's exclusive fast fashion concept unveiling this fall, which will anchor JCPenney's contemporary fashion assortment with a 1500 sq. ft. shop-within-a-shop experience. Over the last few years, JCPenney has continued to create accessibility to sought after brands for women and men including Liz Claiborne, which will be exclusive to JCPenney this August, I "Heart" Ronson (by designer Charlotte Ronson), ALLEN B. (by designer Allen Schwartz) and JOE Joseph Abboud.

"The ALDO Group is thrilled to join forces with JCPenney for our Call It Spring brand," says Aldo Bensadoun, chief executive officer of The Aldo Group. "JCPenney's commitment to the modern customer makes it the perfect place for Call It Spring to grow and prosper alongside other strong international brands such as Sephora and Mango. We believe the Call It Spring shops offer even more options for customers looking for great fashion at great prices."

Targeted towards the 15-30 year-old consumer, Call It Spring will be home to women's and men's footwear and women's handbags that reflect up-to-the-minute trends. Call It Spring will significantly expand JCPenney's modern offering in footwear and accessories.