cpi to establish remarkable essence in world fashion arena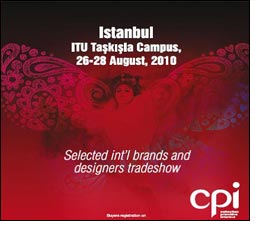 Being of great importance for the Turkish fashion and ready-to-wear world, cpi – collection première istanbul will be held at Taskisla Campus of ITU (Istanbul Technical University) at August 26-28, 2010 under the organisation of ITKIB (Istanbul Textile & Apparel Exporters' Association) and in cooperation with IGEDO. Also supported by the associations acting in ready-to-wear and apparel industry, cpi will be realized with contributions by Istanbul 2010 European Capital of Culture. With cpi, going beyond the ordinary, Turkey will make a remarkable step towards being a fashion designing country, rather than fashion producing country.

The place and date of cpi (collection première istanbul) to be organised by the Istanbul Textile and Apparel Exporters Association (ITKIB), who succeeded to include Istanbul Fashion Week (IFW) into the calendar of world fashion weeks, together with IGEDO Company, the German company being the greatest fair organisation company for fashion and prêt-a-porter industry, is already determined. cpi, expected to serve as the touchstone for integration of the Turkish garment industry with global world markets, will be held at Taskisla Campus of ITU at August 26-28, 2010, simultaneously with the Istanbul Fashion Week.

cpi, which will establish a remarkable essence in the world fashion arena as serving a cultural and Fashion Bridge between the Middle East and the Europe, will enable the distinguished national and international fashion brands and designers to conclude commercial deals by exhibiting their collections for spring and summer 2011. The fact that cpi activity is organised in Turkey, one of the most important producing countries of the world textile and prêt-a-porter sector and in Istanbul, the city located among the most developing markets in the world, will offer a unique opportunity for preeminent Turkish prêt-a-porter companies, who do not have the chance to participate in exhibitions held abroad, to exhibit their design-oriented collections to international visitors.

It is anticipated that 40 percent of total fair area with around 7000 square meter net exhibition space will be allocated for international brands and designers. Turkish designoriented prêt-a-porter brands and designers are expected to make reservations as soon as possible. The display booths to be offered for sale in May already attract attention of a number brands such as Noir, Triumph, Falke, Bugatti, Burlington, Tally Weijl, Roeckl, Caramelo and Helmut Lang.

Hikmet Tanriverdi, ÐHKÐB Chairman: "cpi will bedazzle all and we will be among the first five in global fashion league!"
In the press conference, participated also by Mirjam Dietz, Executive Fashion Director of IGEDO Company, Hikmet Tanriverdi, ÐHKÐB Chairman, stated that Turkish fashion industry witnessed a rapid change, development and transformation in the last quarter of the century when a number of Turkish brands growing at an incredible speed achieved great success. "Today we are not only a country that produces but also creates and designs fashion and are effective both in domestic and international markets. Turkish fashion industry is out of its shell. With our hundreds of thousands of workers, with the export value reaching 20 billion USD and all other powerful dynamics, we follow a brand new route taking us to safe harbours. With each step we take, each project we achieve we get even closer to our objectives," said Tanriverdi.