CURVExpo set to be hotter than ever this summer in NY & LV!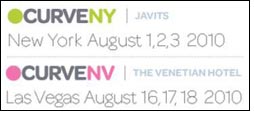 CURVExpo, now in its fourth year, has continued to flourish. The trade show, which exhibits of the world's top brands in elegant lingerie, foundation wear, swimwear, men's underwear and loungewear, has showcased an apparel sector that has proved to be recession-proof. In fact, the lingerie category was the only one in fashion not to decline in the turbulent 2009.

In addition to the top-notch brands that already exhibit at CURVE, 25 exciting new brands to discover from around the world will also be featured.

CURVENY in New York will welcome 250 brands, with a notable 40% international presence. The show, which will take place on August 1, 2 and 3, has outgrown its former space at the Javits Center and now has a new and larger home. Hall 1E/1D will allow Page 2 of 3 room for the growing number of new booths and give exhibitors more space to unwind in the expanded lounge area.

The show will then go on the road to Las Vegas, where it will showcase Spring/Summer 2011 designs to West Coast retailers at the exquisite Venetian Hotel August 16, 17 and 18.

Joining the 230 brands at CURVENV in Las Vegas this year are more than 50 designer swimwear lines. This is the first time that these high caliber swimwear lines will preview their latest wares in one locale, inaugurating a Swim Fashion Week on the West Coast.

Top designer brands expected to be represented include: L Space, Luli Fama, Lenny, Perry Ellis, Jantzen, Jag, Vitamin A, Carol Wior, Karla Colletto, Agua De Coco, Shan, Lilibon, Elizabeth Hurley, Pistol Panties, Debbie Katz, Despi, 1 Sol Swim, Anika Brazil, Andres Sarda, Aerin Rose, Plunge, YBL, Playboy Swimwear, Pez D'Or, Kariza Swim, Guria, Nina Ricci Swimwear, Marlies Dekkers Swimwear and Valery Swimwear. This list is still growing.

Both the New York and Las Vegas shows will feature RSVP only networking events, seminars, and chic parties to give attendees a complete and classy experience. Exclusive to New York, there will be a seminar presented by CEGID, a leading software provider, on increasing store productivity and profits.

In addition, special events including fashion trend seminars for lingerie and swimwear will be presented by Group Carlin International. The seminars will unveil Spring/Summer 2011 trends for retailers to shop the floor wisely, Fall/Winter 2011 for the design teams of exhibiting brands and, new for this year, Spring/Summer 2012 trends dedicated to swimwear brands.

In Las Vegas, the "Paradise Uncovered by Perry Ellis International" Party will take place to celebrate the 100th birthday of Jantzen, one of CURVE's top swimwear exhibitors. Highlighting CURVENV Las Vegas will also be the "So Curve So Swim" fashion show at the original CRAZY HORSE Paris at the MGM Grand Hotel, featuring the hottest swimwear looks for Spring/Summer 2011.

The Swim Fashion Week at CURVENV Las Vegas will also feature other events centered on swimwear, including the Swim Trends Display by Group Carlin International for retailers. With this Display, the retailers will be able to connect and understand how the swim exhibitors have personally interpreted these trends in their collections.