Japan Jewellery Fair to be held in September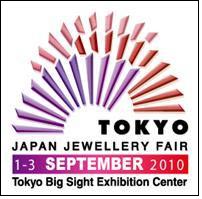 The Japan Jewellery Fair (JJF) is ideally timed for stock purchasing ahead of the autumn, Christmas and New Year retail season with a wide range of new and exciting items on offer. With its large number of high quality, established jewellery companies, Japan is currently one of the most attractive places to do business.

Best timing targeted for year-end retail season!

JJF has been held by the Japan Jewellery Association since 1993. The fair doubled in size since UBM, organiser of the September Hong Kong Jewellery & Gem Fair and other leading jewellery events in Asia, became the fair organiser in 2006. JJF is a professional jewellery exhibition held in the best timing in the Japan jewellery market, which is ideally timed for stock purchasing ahead of the autumn, Christmas and New Year retail season. The best opportunity to sell into Japan's $10 billion jewellery market at Japan's premium jewellery exhibition.

Why Japan?
Japan was ranked 2nd in the international comparison of GDP in 2008. Even though Japan has been slowing down in economic growth since the end of the bubble economy, its GDP still stay strong as compared to other counties. The Japan market is too huge and consistent for you to ignore.

High Light of Pavilions

"Quality Design Zone"
High Quality Fine Jewellery for Selective Buyers
The Quality Design Zone is an ideal place to look for luxury jewellery pieces that are unique and of the highest quality. Find the latest collections of innovatively designed jewellery that satisfies the diversified needs of your customers!

"Premium Jewellery Salon" in the Quality Design Zone
Japan's best jewellery design selected by Four Seasons of Jewellery
The Premium Jewellery Salon will introduce to the industry the most innovative jewellery designers selected by editors of the official media, "Four Seasons of Jewellery".

"Bridal Jewellery Zone"

The latest collection of bridal jewellery
The Bridal Jewellery Zone with "Bridal Jewellery Showcase" will present a sparkling array of the latest bridal jewellery designs from leading suppliers in Japan. The jewellery introduced in the pavilion will be appeared at the Bridal Jewellery Fashion Show under an ideal collaboration with "ACQUA GRANZIE", the leading wedding dress brand in the world!

The "Bridal Jewellery Showcase"
The latest bridal jewellery collections form the exhibitors outside the pavilion will be a part of the Bridal Jewellery Zone!

"Designers & Craftsmen Pavilion"

The key word in designed theme is "Originality"
Looking for originalities that distinguish you from other shops? If so, the designers & Craftsmen Pavilion will be the best place to find what you are looking for!

"Japan Pearl Pavilion"
Meet Japanese companies in the pavilion that you will never meet at any other trade show outside Japan. Pearls have been attracting people of all ages and boasts overwhelming popularity in the world. You can enjoy a wide range of items with his quality but competitive prices, such as loose pearls with various types and sizes and the latest pearl jewellery collection.