Focal Ghillie Style to hit colette Boutique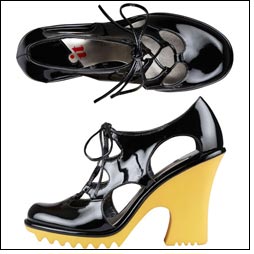 Payless ShoeSource, dedicated to democratizing fashion and design in footwear and accessories for all to enjoy, announced the September 7 availability of the much-anticipated Isabel Toledo for Payless fall collection at select Payless stores across the U.S., Canada, Puerto Rico, the Philippines, countries in the Middle East, and Russia and at Payless.com.

Payless also announced the exclusive availability of a focal style in the collection, the "High Ghillie," which is available now in limited-edition, exclusive colors at Paris boutique, colette, with additional styles available at the boutique later this month.

Toledo, a global fashion icon, became an international household name last year for the "Lemongrass" Day Dress she designed for Michelle Obama to wear to her husband's inauguration. She is an inventor of many signature looks and has been described as a "cult figure" by the New York Times, one of the "100 designers that count" by Women's Wear Daily and "an important raw talent" by Vogue. Her designs have been sold in some of the most prestigious stores in the world such as Barneys New York, Nordstrom, Ikram in Chicago, colette, Shiseido Ginza in Tokyo and Liberty of London.

"Isabel's first collection for Payless channels her unique design focus, melding fashion, art and invention through an amazing line up of wardrobe essentials that are graphically strong, chic, inventive, wearable and fun," said LuAnn Via, CEO of Payless. "With its practical elegance aesthetic and international flavor, we expect this line to have broad appeal across the globe -- in our U.S. and many of our international Payless stores, and at colette, where the Payless designer label is first being launched."

Toledo is well-known for her fashion-forward, evolving design process rooted in the marriage of art, fashion and invention. Her approach and dedication to designing clothing -- and now shoes -- that are timeless and free of trends make her an iconic and free-thinking talent.

Her first Payless collection includes a range of important essential silhouettes including tall boots and ankle booties, pumps, heeled wedges and flats done in fresh new ways and resulting in wearable chic shoes with a practical elegance.

"The main inspiration for my first Payless collection was to create a line of shoes that I could wear on a daily basis and that would make a bold fashion statement, but also be very functional too," said Toledo. "I am a New Yorker and I walk all over the city and in the fall that means all sorts of bad weather. These shoes have a strong graphical tone, are fresh new essentials for every woman's fall closet, and are an affordable way to make a strong statement from the ground up."

Two key styles in the line are the High Ghillie and a Ballet Flat Ghillie, both featuring a Ghillie upper with its half-circle cut-outs and loop lace design. The High Ghillie features a faux patent upper with a contrasting all-yellow heeled wedge sole with a zig-zag ripple treatment -- a signature design element in Toledo's fall Payless footwear collection. The Ballet Flat Ghillie comes in both a black and silver version featuring a ruched toe design and a skimmer sole and half-inch heel – also featuring the zig-zag ripple treatment.