Esprit brings back the Wild Wild West look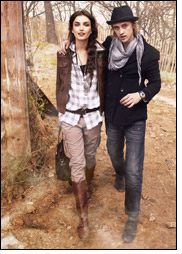 Celebrate rough stock, paydirt and suburban American fashion with a refreshing new twist from Esprit's Rodeo inspired collection. Resurrect the legendary fashion era with Esprit that reinterprets Rodeo fashion.

Women
edc by Esprit Rodeo inspired collection has graceful lines fit to every shape; with quirky detail each piece in itself is a contemporary fashion delight. New cargo styles matched with glamorous vintage looks, sophisticated used leather jackets, with sturdy laced boots worn open to give you the much talked about Heidi Montag look.

Oversized loop scarf, flannel shirt, long tank top, boyfriend jackets, cardigans, riveting tank tops and a fashion must have; the leather jacket will take you miles on the fashion circuit. To add a riveting touch to the signature look Esprit brings you the collection in basics: neutrals, grey shades and black accents and in ravishing teal, blue tones, red, berry tones. The look can be rounded off with trendy footwear courtesy of classic and vintage inspired edc shoes, as well as stylish edc accessories like simple yet exuberantly styled bags and belts.

Esprit Rodeo Inspired Women Casual is all about living it up in true Jane Fonda style; casual feminine, effortless and sophisticated. The styles are inspired by the beauty, timelessness and the spirit of Esprit. Down jackets and gilets, including new shapes, duffle coats, pea coats and feminine trench coats is a real winner. Faux leather jackets, including suede and lambskin effects single blazers in classic materials such as tweed, herringbone, glen check and houndstooth check adds an influencial touch for a revamped Westside glamorous look.

Pull this off with basic feminine shirts, denim blouses teemed with a jersey and checked wool jackets to create clothing with a lighter than air feeling for a woman with a bit of edge. The garments is made of cord, bouclé, flannel, classic and washed wool effects, denim in authentic looks with velvet finish for an absolute wardrobe nirvana.

Esprit Rodeo inspired Women's Collection emphasises on high style and intricate dressing. Slim-line, figure-hugging and draped styles and oversized off-shoulder silhouettes cardigans and sweaters should be part of the ensemble. They come in novel, soft knits, military-inspired, with visible zip details and in 'O' shapes with knitted sleeves, super-light, padded down styles with XXL collar that rocked the 50's. Wear Blazers and jerseys with accentuated shoulder constructions for a bolder look. Accentuate your hourglass figure with wide belts with chain details brought in to the waist along with party dresses.

This collection comes in basics like black, white and neutrals and beautiful highlights like gemstone tones, smoky frosty pastels. They also come in metallic grey and copper shades adding a touch of modern sensibilities. Team it up with silk satins scarves and neckerchiefs and bags made from luxurious Morocco leather and hats to complete the look.