Team 1 Design wins top honours for 'Change'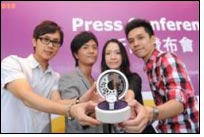 A wristwatch inspired by the seasons and a clock which doubles as a tiny garden have won top honours at the Hong Kong Watch and Clock Design Competition and a place at next month HKTDC Hong Kong Watch & Clock Fair, the world's largest event of its kind.

The award winners were announced during a preview of events for the 6-10 September fair, organised by the Hong Kong Trade Development Council (HKTDC) together with the Hong Kong Watch Manufacturers Association Ltd and the Federation of Hong Kong Watch Trades and Industries Ltd.

Some 700 exhibitors from 15 countries and regions have booked places at the Hong Kong Convention and Exhibition Centre for the fair, which will include industry seminars and special zones focusing on name brands and limited-edition timepieces.

Top Designs
From more than 200 entries submitted for the 27th edition of the design competition, Team 1 Design Ltd Spring & Winter¡¨ watch was chosen as champion in the Open Group, while Kin Waily, Garden Clock¨ won in the student category.

Team 1 Design said the theme Change¨ inspired it to create a watch that represents the ¡§seasonal change from spring to winter.¡¨ The timepiece features a top ring that can be rotated, and a double-sided strap that can be changed depending on the wearer sown preferred season.¨

Mr Waily, who graduated from the School of Business and Information Systems and studies at the Hong Kong Design Institute, was selected champion in the green-themed Student Group category for his combination clock and potted plant. The device runs on electricity from a solar panel and the natural chemical energy from the soil it holds. ¡§The design is made of eco-plastic and eco-paint,¡¨ said Mr Waily, adding that most parts of the clock can be recycled and that it would be shipped with a packet of wheatgrass seeds, ¡§so the user can plant wheatgrass to make juice.¡¨

Million-Dollar Baby
Highlights of this year¡¦s fair, the 29th edition, include the Brand Name Gallery. The Gallery will feature about 100 brands, including Alan & Anthony Watches, ARBUTUS, EVERLAST, FIYTA, Galtiscopio, Guy Laroche, ICE-WATCH, INNERPOWER, KIN-MIX, Levi¡¦s, Louis Armolo, MAX XL WATCHES, MC marie claire, odm, QUE, SOLUS, TEMPORIS, Tonino Lamborghini, UNITED ARMY, wize & ope and ZERONE. Catwalk-style fashion shows will be held in the Brand Name Gallery¡¦s Wine Cellar, where visitors will also be able to enjoy wine and coffee.

A new feature of this year¡¦s fair is the World Brand Piazza located on the concourse leading to the Brand Name Gallery. Sponsored by Prince Jewellery & Watch Company, it will pay homage to the art and craftsmanship of haute horlogerie. World Brand Piazza will feature limited-edition timepieces from global brands that represent the ¡§pinnacle of watchmaking.¡¨ Timepieces by Breguet, Cartier, Omega and Vacheron Constantin will be on display. Among the outstanding pieces to be exhibited will be diamond-studded watches worth more than US$1 million from Audemars Piguet and Piaget.