SLDF aims to promote Sri Lankan creative industries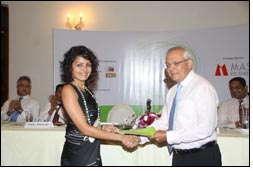 November 2010 will celebrate Sri Lankan design with the Sri Lanka Design Festival (SLDF) 2010, sponsored by MAS Holdings, organised by the Academy of Design (Colombo) in partnership with Sri Lanka Export Development Board and backed by Sri Lanka Apparel.

SLDF 2010 aims to promote Sri Lanka's creative industries, both traditional and contemporary, on a global platform. It will also showcase the Sri Lankan Apparel Industry's manufacturing capabilities, creative strength and ethical fashion positioning, providing business opportunities for those seeking ethical apparel sourcing from Sri Lanka.

A distinguished international delegation of designers, design educationalists, journalists, retailers, buyers and opinion leaders will attend the Festival. Leading global brands such as Marks & Spencer, Top Shop, Tesco and many other internationally renowned labels will be amongst the delegates attending this event. Tailor-made itineraries for each of the international delegates will include sourcing meetings, visits to Sri Lanka's unique eco-friendly apparel manufacturing facilities, and exposure to Sri Lankan industry's technology and design prowess.

SLDF 2010 is also a dynamic cultural event, with a series of events including exhibitions, fashion shows, workshops, talks and seminars in several fields of design, including Graphics, Fashion, Jewellery and Interior. The workshops will range from traditional crafts such as mask making to contemporary such as printing and photography. These events will enable a global exchange of ideas, creative inspirations and techniques among designers and crafts persons, and will also help uplift Sri Lankan design industries. Delegates and public will also be able to see traditional craftsmen from across Sri Lanka at work and see authentic craft products on display.

A cornerstone of SLDF is the Apparel Industry Fashion Show, where the product design and development capabilities of Sri Lanka's apparel manufacturing industry will be put on show. Following its resounding success last year, this event is a global showcase of Sri Lankan companies' design talent and capabilities.

The Ethical Fashion Symposium, sponsored by Sri Lanka Apparel, is another core event at SLDF where fashion retailers/brands, opinion leaders, manufacturers and fashion educators come together to deliberate and map out the future direction of ethical fashion. The symposium will be chaired by Colin McDowell, the legendary fashion commentator from UK.

Linda Speldewinde, Managing Director of the Academy of Design (AOD) and founder of Sri Lanka Design Festival stated, "We feel Sri Lanka is ready to make its own unique contribution to the world of fashion and design and we want Sri Lanka Design Festival to facilitate Sri Lanka's debut to the world of design"

Wishing to recognise the fashion industry's increasing commitment to ethical manufacturing, Elizabeth Laskar, one of the founders of the Ethical Fashion Forum, UK, together with the Sri Lanka Design Festival, MAS Holdings, Exibal Ltd, Marks & Spencer initiated the Sri Lanka Ethical Designer Award in November 2009.