Mona Faris to kick off Dubai Fashion Week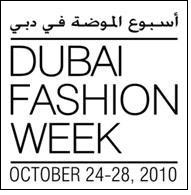 Manish Malhotra, Furne One and "Neon Edge"'s Mona Fares are set to light up Dubai Fashion Week (DFW) with their stunning Spring/Summer 2011 (SS11) collections between 24th and 28th October. In preparation, Capital Marketing, DFW owners and organisers, are pulling out all the stops to ensure DFW SS11 is better than ever, with a top-level line up of the regions hottest designers.

Debuting at this season's DFW are the local talents of Abeer Al Suwaidi of "USH Boutique", Sara Al Madani & Apple Wang of "Rouge Couture", and Lamya Abedin of "Queen of Spades". Designers returning to the catwalk include Aartivijay Gupta, Shrehkanth, Amber Feroz, and Homa Qamar to name a few.

Commenting on the upcoming season, Manoj Bhojwani, Chairman of Capital Marketing said, "As the new owners and managers of DFW, we are committed to building the brand, developing stakeholder relations, reaching out to a wider pool of designers to showcase the very best talent, in addition to attracting top local, regional and international buyers. To ensure DFW takes its place on the international fashion circuit it is vital that all these elements come together. This is not an overnight task but one we are fully committed to. The Middle East is home to a burgeoning fashion scene and it is important that this obtains global recognition."

DFW SS11 sees a total of 40 designers set to delight attendees with their creations. The show, now in its 8th season also moves to a brand new venue; Asateer at Atlantis The Palm, providing a much bigger venue, that is more in tune with the much anticipated growth of Dubai Fashion Week.

Rohit Sabikhi, Dubai Fashion Week General Manager, said a few changes to the show have been announced. "DFW SS11 will have 30 shows over five days. The show timings have also been revised with shows starting and ending earlier. Both changes have been incorporated to give more time and flexibility to designers and buyers."

Showcasing for the first time at DFW are the SS11 Emerging Talent winners presented by Max and co-founder whose show will be open to the public on 26th October at 2.00 pm. Designers include: Sachin Gada, Niteesh Singh Chauhan who are both based in India, and Dubai based Susan Jacob, Nova Krishnan, Samah Ali and Nasrine Dechache. These six exciting new designers were selected from a shortlist of twelve and will each début five runway designs at DFW SS11, in addition to an exhibition stand providing them with a platform to interact with business-driven associations.

Established in 2006, the Emerging Talent competition was created to showcase the work of the many talented amateur designers in the Middle East. Entries and submissions come from a wide range of designers, from students to existing fashion designers looking for exposure in the dynamic fashion industry. The competition has cemented itself as an opportunity for industry experts as well as fashion lovers to get a sneak peek into some ofthe region's up and coming designers.