Inditex's fifth 'for&from' fashion store in Elche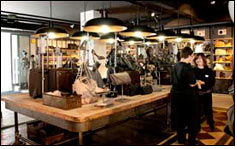 The new Tempe Outlet in Elche, Spain, opened is Inditex's fifth "for&from" store, a project in which retail establishments are staffed by people with physical and/or intellectual disabilities.

Attending the store launch were Angélica Such, Councillor for Social Welfare for the Valencian Regional Government, and Elche Mayor Alejandro Soler. The new shop is located in the Elche Industrial Park, which also houses Tempe's headquarters and its largest distribution hub. Tempe designs, manufactures and distributes footwear and accessories for Inditex's eight retail formats (Zara, Pull&Bear, Massimo Dutti, Bershka, Stradivarius, Oysho, Zara Home and Uterqüe). The shop is the fifth Inditex establishment and the second Tempe location in the "for&from" project, following an opening in July in Allariz (Ourense, Spain).

Tempe and APSA (Alicante Association for the Mentally Handicapped) are working together on this project to encourage disabled individuals to join the workforce. The establishment's numerous technical features facilitate access to any customer with a disability. When designing the store, Tempe was advised by Fundosa Accesibilidad (ONCE Foundation). Tempe Outlet sells footwear and accessories of previous seasons of all eight Inditex concepts at discounted prices.

A different store concept
The store employs eight people. Employees were chosen by Tempe's Human Resources Department, which has worked on this specialised area since 2008, in conjunction with APSA, which has the know-how and experience required to assess the employment needs of people with disabilities. Taking advantage of the APSA's wide-ranging understanding of these issues, the store's staff were trained in the same manner as are all other company employees, with excellent results.

An accessible and sustainable store
Tempe significantly upgraded the store's architecture and furnishings, introducing a range of technical solutions which, in addition to facilitating the work of its employees, make the establishment a trend-setting location in the fields of accessibility and eliminating obstacles.

Highlights of these solutions include:
Store entrances consist of automatic sliding doors. Two horizontal bands in a contrasting colour span the glass entrance doors, making them easier to see. Entrances include access ramps to bridge the gap with the street level.

Corridors and connecting areas: The establishment's floors are painted with guide strips in colours contrasting with those of flooring surfaces, to connect public areas with emergency exits and cash registers in order to facilitate the movement of the visually impaired.

The width dimensions of all pathways on the sales floor are sufficiently ample to permit the free movement of customers using wheelchairs.

A segment of the cash register counter was adapted to sit lower than the usual counter height, suiting individuals in wheelchairs.