JLO & Marc Anthony to design Kohl's collection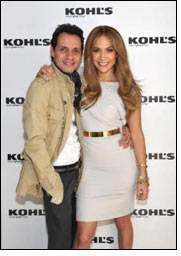 Kohl's Department Stores and Music Entertainment Sports Holdings, a division of LF USA, announced its plans to launch two multi-department contemporary lifestyle brands with globally-recognized entertainers Jennifer Lopez and Marc Anthony, the first celebrity couple to simultaneously design collections for one retailer.

Kohl's will be the exclusive provider and marketer in the United States of all Jennifer Lopez and Marc Anthony apparel, accessories and other merchandise, which will be available in Kohl's stores nationwide and Kohls.com beginning Fall 2011.

"We are pleased to announce lifestyle brands with one of the most successful and talented couples in the entertainment business and have every confidence Jennifer Lopez and Marc Anthony will resonate with our customers," said Kevin Mansell, Kohl's chairman, president and chief executive officer. "The addition of the Jennifer Lopez and Marc Anthony collections further differentiates Kohl's with exclusive, world-class partnerships and positions us to continue to gain market share."

The Jennifer Lopez and Marc Anthony brands will initially launch in women's and men's apparel and accessories. The Jennifer Lopez collection will include sportswear, dresses, handbags, jewelry, shoes and sleepwear while Marc Anthony will launch in sportswear, dress shirts, neckwear, accessories, suit separates, sportcoats and shoes. Over time it's expected the Jennifer Lopez and Marc Anthony collections may expand into home. Both will have prominent positioning throughout the store in the contemporary areas.

"The Jennifer Lopez and Marc Anthony collections deliver a total value proposition to our customers by offering contemporary style at an incredible value in each category," said Don Brennan, Kohl's senior executive vice president. "This launch builds on the success of and further strengthens our exclusive and private brand portfolio, which has demonstrated consistent growth over the last several years due to strong customer response."

Recognized as one of the world's most influential couples, Lopez and Anthony are celebrated for their multi-faceted work in the mass media industry. Lopez is best known as an actress, singer, and designer, while Anthony is a five-time Grammy winner who has sold more than 12 million albums worldwide.

"We are thrilled to embark on this new venture with Kohl's and to join in this important partnership," said Jennifer Lopez and Marc Anthony. "These are really exciting times for us and our family and we are looking forward to collaborating with Kohl's in the creation of alifestyle brand that represents our true style and the essence of who we are and what we have come to represent as artists. It is with much excitement that we can bring this to the Kohl's customer."

Kohl's, Jennifer Lopez and Marc Anthony will partner on the design of all Jennifer Lopez and Marc Anthony apparel, which will be managed out of Kohl's New York Design Office. Kohl's will also manage theproduction, distribution and marketing, which will prominently feature Lopez and Anthony.