Sofia Vergara to create own fashion range with Kmart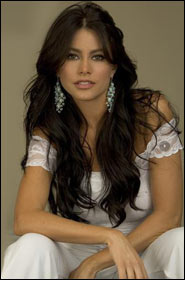 Kmart, LF USA (a subsidiary of Hong Kong-headquartered multinational Li & Fung Limited), and Latin World Entertainment Licensing announced the launch of a new lifestyle collection by renowned actress Sofia Vergara. Sold exclusively through Kmart, the collection will embody the "Modern Family" star's signature style of glamour and sexiness with an air of approachability.

The collection, which will include sportswear, dresses, handbags, jewelry, and footwear, is designed to offer young, fashion-conscious women the trend-right must-haves of each season, including figure flattering styles and fashion-forward prints and patterns that easily transition from day to night. Reflecting Sofia's unique fashion sensibilities, the brand is a modern and fresh approach to everyday style. Kmart will be the exclusive provider and marketer in the United States for all Sofia Vergara apparel, accessories and other merchandise, available at over 800 Kmart stores nationwide and Kmart.com beginning fall 2011.

"The Sofia Vergara collection will draw on the star's notable, personal style with designs that will have broad appeal," said John Goodman, executive vice president of Apparel and Home for Sears Holdings.

"As you look at the current brand portfolio at Kmart—from our longstanding relationship with Jaclyn Smith to our more recent introduction of Dream Out Loud by Selena Gomez it is clear that we value the authenticity that comes from collaborating with talented celebrities whose sense of fashion is aspirational but attainable. We're particularly pleased to be able to strengthen our apparel offering with this contemporary brand, designed especially for a young, fashion-conscious customer. We look forward to welcoming Sofia Vergara to the Kmart family."

Named as one of the most talented and powerful women in Hispanic entertainment today by The Hollywood Reporter and Billboard, Sofia Vergara is the only Hispanic actress to begin her career on a U.S. Hispanic network and successfully cross over to the general market. She can currently be seen every week on ABC's six-time Emmy award-winning series, "Modern Family" and will participate in some of the most anticipated films of 2011, Columbia Picture's "The Smurfs," Warner Bros' "Happy Feet," and New Line Cinema's "New Year's Eve." Recently selected by The New York Times as one of this year's "Faces to Watch", Sofia was nominated this year for a Golden Globe, an Emmy and a Screen Actors Guild award for her role in "Modern Family."

"I am thrilled to be introducing the Sofia Vergara brand with Kmart!" said Sofia Vergara. "I wanted to work with a national retailer that would truly value a collection that provides both fashion and quality at a price women could afford."

"As an actress, businesswoman, philanthropist and fashion trend-setter, Sofia Vergara is truly today's modern woman," said Rick Darling, president of LF USA. "Just as Sofia's talent has won her fans across a broad audience base, we believe her collection will appeal to a range of fashion conscious consumers. The combination of one of America's top retailers in Kmart, along with LF USA's design capabilities and global sourcing network and Sofia's strong consumer appeal, creates a powerful fashion proposition for our customers."