Lamya makes abayas available for patrons in the Kingdom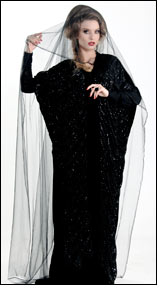 Lamya Abedin, the Emirati designer who gave the traditional attire abayas an all new fashion statement, is proud to announce her label's launch in Harvey Nichols Riyadh, at Al Faisaliah Mall, starting from 6th of March 2011.

Having reached many countries so far with custom-made orders for very special clientele, Abedin now takes her label closer to her clients in one of the most important retail markets, Kingdom of Saudi Arabia. Queen of Spades' launch in Harvey Nichols makes Lamya Abedin the first Emirati abaya designer to have her collection displayed at the reputed department store's Riyadh branch.

Located on the second floor of Harvey Nichols Riyadh, in women's wear section, the limited exclusive pieces specially created for Queen of Spades' clientele in Saudi Arabia, feature more conservative yet contemporary chic pieces, tailored to the special requests and feedback of its patrons in the Kingdom.

The designs are primarily loose-fittings and pastel colors with cultural fabrics and materials sourced from all around the globe. All time favorites and signatures of the designer, like patch works, mermaid cuts, pantaloon abayas and reversables, will also be available in the collection for the Kingdom.

Commenting on having Queen of Spades aboard, Samira Raouaha, the Managing Director of Harvey Nichols Riyadh, said: "The presence of Queen of Spades in Harvey Nichols is an asset and a great fit to our store concept and clientele who like exclusivity along with luxury. After researching on the brand, its creativity, the attention to detail and most importantly its exclusivity, we have decided to work with Lamya Abedin. We are very excited to extend Harvey Nichols women's wear section with region's traditional attire.

In her comments, Lamya Abedin said: "I have my customers from across the world and among those; the Saudi market definitely is one of the most important and the good amount of my customers and the demand on my creations comes from this part of the world. The Saudi consumers are fashion savvy, with a taste for the decadence and the exclusivity that the Queen of Spades is known for. Therefore, I am happy to be able to bring my creations one step closer to them, for their convenience. I am looking forward to extend my distribution line with elite department stores like Harvey Nichols, it is exciting times ahead."

In February 2010, Lamya Abedin launched her label Queen of Spades at her brand boutique in Dubai's popular fashion destination Galeries Lafayette. Since then, she has launched five collections, each created and themed on a different inspiration. Her latest collections include the "Hanami", inspired by the Japanese blossom festival, which was showcased in Dubai Fashion Show 2011 and "Vamp a NY" collection, inspired by the Middle East debut of the French perfume line, We Love NY.

The latest distribution spot in Harvey Nichols Riyadh is the third retail point for Queenof Spades abayas, following the Galeries Lafayette in Dubai Mall and Ush boutique in Jumeirah, Dubai.