Spanish designer Adolfo Dominguez catwalks into India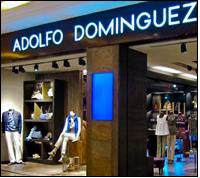 Adolfo Dominguez, the Spanish designer recently unveiled his flagship store in New Delhi. The store has stocked the latest spring/summer 2011 clothing and accessories collection, for both men and women.

For its Indian operations, Adolfo Dominguez has entered in to an eight-year exclusive master franchise agreement with Wadhavan Lifestyle Retail and has plans to pump in around Rs 500 million to establish the brand in India.

In 2008, Wadhavan Lifestyle had brought the American urban street wear brand Ed Hardy to India. With over 35 years of experience in about 37 countries, the first Spanish Adolfo Domínguez stores opened in 1982 in Madrid and Barcelona.

As a marketing strategy, Wadhavan wants a lot of consumers to be aware about Adolfo Dominguez. They have started with a little bit of marketing by creating some awareness about the brand. Apart from which, other activities would talk about the luck and heritage of the brand.

Mr Abhinav Zutshi, Head – International Brands, Wadhavan Lifestyle Retail Pvt. Ltd spoke exclusively to fibre2fashion about their future plans for the Adolfo Dominguez brand in India and the potential for European designer wears in the Indian market.

Speaking about the potential for European designer wears, he said, "I think, in the last 3-4 years, a lot of European brands have come to India and have been well accepted by the consumers. This is the right time for new brands to come into India and try the market.

"For all the global brands, China and India are now the largest markets in the world and it's high time that they come in and see how their products click with the Indian consumer. I think there is tremendous potential for all these brands to come in. The consumers and the markets are available. According to me, this is the best time to be in India".

Giving an insight in to the trends of the Indian market, he informed, "Mostly the Indian brands have either focused on women's wear or men's wear because these are the two main categories in India. But apart from this there is a lot of scope for kids wears as well as home products.

He added by saying, "The Indian consumer is maturing and has a fair understanding about international styling and products across all categories. In the next five years, one will see a lot of activities and lot of global brands coming in to India".

On the strategy to increase their presence in India, he said, "I think the strategy goes hand in hand with the availability of real estate. Good real estate basically means good malls and good hyper cities at a place where all like-minded brands are available, which gives the consumer a wider choice as well as create awareness levels.

"So based on how the market is evolving and the number of malls coming up in the next two years, we will be sounding out bigger metros like Mumbai, Delhi, Bangalore, Kolkata and Chennai. After a period of two years we willexplore other cities like Pune and Nagpur. These are the cities where the brand evolution will be slower".