Lamya Abedin inspires from daughter Jana to create new dress line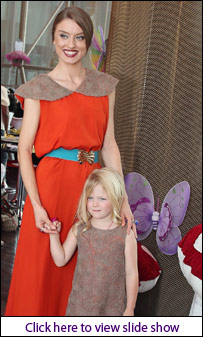 This year for Mother's Day, Lamya Abedin, the Emirati founder and designer of Queen of Spades, extends her fashion abaya label with a line of dresses exclusively designed both for the mothers and the daughters.

Inspired by her own two-year-old daughter Jana, Abedin has created this special line – Mommy & Baby Spades – with 20 exclusive twin sets of ready-to-wear dresses for mothers and their daughters who are aged between 2 to 6 years.

Mother and daughter models displayed the new collection in a fairytale themed fashion show at Galeries Lafayette, Dubai Mall.

"This Mother's Day I wanted to glorify the beautiful bond between mothers and daughters by creating something new. The first thought was to create something that both mothers and daughters would enjoy wearing. My own daughter became my muse for this collection. And with her birthday around the corner, I wanted to dedicate this new line for mothers and babies to my little daughter who I love dressing up. Jana's love for colours, how she plays with my fabrics and reacts to the mannequins in my workshop, has all led to ideas I have used in creating this line of dresses – a first in my range of creations," says Abedin.

The imaginary land of fairy tales became the theme and Abedin used a lot of tutus and ballerina styles, bright colors, mesh skirts, printed patches, fairy, dolls and butterfly prints to bring alive her new creations. In this collection too one will see Queen of Spades' signature styles of patch works, layers, mixed use of fabrics and lots of accessories.

Having lived and travelled to various parts of the world this line of dresses also reflects Abedin's passion to source unique materials. For the latest collection the designer has sourced fabrics from across the globe including France, United States, Germany and Japan. The choice of fabrics for this range was primarily cotton, linen, velvet, silk, crepes, laces and denims.

The collection presents casual, ready-to-wear outfits, along with some dressier options for occasions and festive wear. Apart for the colourful dresses, the collection will also showcase a twin set ensemble of loose denim pants and the quintessential black dress.

Eventra, an event and planning company in Dubai has joined hands with Abedin to create the fairy themed set up complete with make-up, nail and hair style stations, dancers, photo booths and drawing walls.

Since the launch of her label Queen of Spades at her brand boutique in Dubai's popular fashion destination Galeries Lafayette in February 2010, Lamya Abedin has launched five new collections, each created and inspired by various themes from Vintage Hollywood to Hanami, the Japanese spring festival, from Ottoman Dynasty to Valentine's Day. Abedin also showcased at the Dubai Fashion Show 2010 and recently associated with French perfumers Honeres de Paris for the Middle Eastern launch of the "Vamp a NY" collection.

The latest distribution spot in Harvey Nichols Riyadh is the third retail point for Queen of Spades abayas, following the Galeries Lafayette in Dubai Mall and Ush boutique in Jumeirah, Dubai.