Solid roster of regular visitors at Made in France by Fatex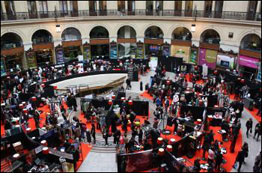 Made in France by fatex 2011 showed vitality for the French luxury industry but, though the offer inspired respect overall, manufacturers remain cautious about the future.

With their strong showing in the areas of quality, proximity and reactivity, the French high-end manufacturers who exhibited March 30 and 31 at Paris' Bourse de Commerce attracted the big names in French luxury and high-end ready-to-wear.

MADE IN FRANCE by fatex drew in a solid roster of regular visitors, resulting in higher total orders than last year's fair, a result which pleased the exhibitors.

A year before France's presidential elections, manufacturers also voiced their concerns to politicians, officials and the media about the industrial future of this fragile sector and the actions needed to preserve this high added-value "niche" with its unique know-how and culturel heritage. MADE IN FRANCE by fatex was also an opportunity to express the industry's preoccupations, despite the strong performance of the luxury sector.

The fair also enticed the public by a double exhibit – one part uniting IFM students and manufacturers, another pairing more established designers and French textile producers in the R3iLab's "Tech & Design" program.

Thus MADE IN FRANCE demonstrated the potential of today's French manufacturing that joins creativity with technique. Many passersby and tourists were intrigued by this unique exhibition of French savoir-faire.

More numerous visitors
With a 3% increase in its visitorship, the fair was attended by luxury order-givers from France, attracted by the possibility of discovering new suppliers.

• 26% of these visitors came to find new manufacturers
• 12% came to meet their regular producers

Visitors were satisfied by the accessory and ready-to-wear offers, but regretted an insufficient number of proposals for menswear which corresponds, unfortunately, to the fact that there are practically no more men's suit manufacturers in France.

Close-proximity maufacturing thus reinforces its "pedigree" from the viewpoint of order-givers, who see the advantages and flexibility of using "Made in France" - plus the fact that it can improve their image, even ethically, with French customers. For the general public today, Made in France is promoted as a way to protect close-proximity, regional jobs. This was reinforced by the various regional company groups present. Ségolène Royal's visit helped focus on 4 SCOPs (cooperative, participative companies) at the fair, each set up by employees from companies in liquidation who rejuvenated their enterprise and are now creating qualified jobs.

We saw the international press at the fair, especially from Eastern Europe (Russia …) where a quality industrial textile network is developing which is present at ZOOM by Fatex. MADE IN FRANCE is an example for ZOOM by fatex - a testimony for fashion, luxury, quality and unsurpassed technique.