Baltimore Fashion Week sponsorships creatively birthed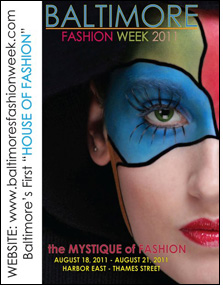 This year the creative marketing team of Baltimore Fashion Week decided to make the sponsorship levels as inviting as the European structure that will be coming to Baltimore August 18 – 21, 2011, so they decided to name the levels after well-known designers. With names such as Louis Vuitton, Versace, Ralph Lauren, Coco Chanel, Yves Saint Lauren and Marc Jacobs, the sponsorship packages must be just as fashionable in a marketing kind of way.

In the past three years Baltimore Fashion Week has had a collective number of 5,172 guests to attend this event. This year we will have a total number of 2,080 guests over the 4-day event. These numbers include a total of 370 seated guests and 150 standing guests, but it does not include designers, production team, interns/volunteers, models, hair stylists, make-up artists, security personnel, and business boutique owners [vendors].

Baltimore Fashion Week has always been held inside of a building/venue. True fashion week events are held inside of a European Structure, known to many as the "tent." Last year, the decision was made to move the event from inside of a building/venue to a structure. Enhancing this event to this level meant having the professionals to perform this task, so the event service professionals of Karl's Events will also be erecting our structure.

Karl's Events is the same company that constructs the structures for the Mercedes Benz Fashion Weeks. Baltimore Fashion Week is the ONLY fashion week in the DC/Maryland/Virginia area that utilizes the same professional services as the other Mercedes Benz Fashion Weeks. Baltimore Fashion Week is modeled after the exceptional production standards of the famous Mercedes Benz Fashion Weeks that are held in New York, Milan, Miami, Paris, and now Russia.

With the mention of erecting a 16,000 square foot structure (Baltimore's First House of Fashion) intrigued quite a few individuals and the excitement around this event continues to grow. Interest in this event sky rocketed, when it caught the eye of Southern Living Magazine editors in October 2010. In January 2011 Baltimore Fashion Week was listed as a Fashion Week Fav of Southern Living Magazine's first publication of 2011, what an honor. The article also caught the attention of a member from the Maryland Wives Club. "Recently being listed in the Baltimore Magazine as one of the "101 Things to do From May to September" was awesome", stated the Executive Producer.

In addition to that excitement, Baltimore Fashion Week decided to add a few more elements to this event:

• The voice and host of this event will be the overnight sensation "Ted Golden Voice Williams". Mr. Williams will be master of ceremony and available for any voice commercial recordings for the 4-day event (August 18 – 21, 2011).
• A charitable golf tournament on August 15, 2011 at the Turf Valley Country Club.
• The charitable recipient for the golf tournament will be the Wounded Warriors Project.