Fyodor, Heidi & Nabil – Fashion Fringe finalists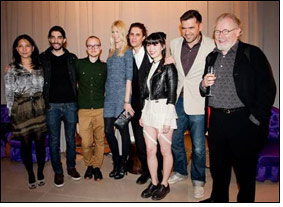 Fashion Fringe, the emerging talent platform set up by Colin McDowell in association with IMG Fashion, announced the finalists for 2011.

Following a demanding few days with technical abilities being tested at the London College of Fashion and business plans scrutinised in a board interview at The Hospital, the announcement of Finalists was made at Sanderson, at an intimate party in the hotel Billiard Room to celebrate the finalist's success where guests sipped on champagne and house cocktails and nibbled on the chef's choice canapés.

The finalists, who will now create their capsule collections and show them at London Fashion Week in September, are:

1. Fyodor Golan
2. Heidi Leung
3. Nabil El-Nayal

This year's Fashion Fringe panel is made up of 5 hugely respected industry professionals across the following categories;

• Retail: Anne Pitcher, Selfridges
• Media: Bel Jacobs, Metro
• Industry: Claudia Schiffer
• Design: Roland Mouret
• Technical: Roy Peach, London College of Fashion

On choosing the 3 finalists, the panel commented as follows:

Bel Jacobs, Metro, said; "It has been a privilege to meet the new stars of British fashion. It has been a truly difficult decision and I wish all of the semi-finalists and finalists the best of luck."

Claudia Schiffer said; "The standard has been exceptionally high, but there were key semi-finalists who stood out with their creativity and innovation. It will be very exciting to see their work in September."

Roland Mouret said; "It was really quite an amazing session. The people we have chosen are really talented. They are rising stars!"

Roy Peach, London College of Fashion, said; "This year's shortlist were so much more creative and experimental. If they can get the right balance between commercial and creative then they will be stars. The finalists will challenge the boundaries of what people expect from Fashion Fringe and I am really looking forward to working with them this summer."

Colin McDowell, Creative Director, said "I'm always thrilled, not only by the quality achieved by young talent, but that Fashion Fringe so vividly reflects that London is truly an international city. People all over the world are excited by the idea of Fashion Fringe and see it as part of London, the most exciting city in the globe."

The final 3 designers will be given studio space throughout the summer to work on their Fashion Fringe capsule collections for London Fashion Week in September. They will also receive business mentoring from key sponsors including; American Express (finance), Davenport Lyons (legal), DHL (shipping and logistics) and Very.co.uk (designer collaborations).

The semi-finalists said:

Fyodor Golan a design duo made up of Fyodor Podgornijs from is originally from Latvia and in Antwerp and Israeli Golan Frydman who gained a BA from Intsituto Marangoni, London.