Pure London celebrates its 30th Season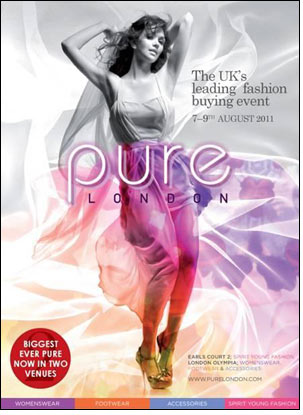 The UK's leading fashion buying event returns for its 30th season this August from 7th - 9th August 2011. London Olympia and Earls Court 2 will showcase the strongest line up of over 1000 brands from across the globe.

After its success in February, Spirit, the trend led, young section of Pure London will return to its own dedicated venue at Earls Court 2. It will present the perfect inspirational hunting ground for buyers to inject funky and quirky key trends to their collections to help them compete with the high street. Brands showing this August include Pepe Jeans London, Jolaby, Ruby Rocks, Molly Bracken, Maggie & Me and Desigual to name but a few. Stitch will co-locate once again, offering a strong line-up of menswear and accessory brands at the same venue.

Founder of Stitch, Brian Duffy, commented "Pure London and Stitch really complement each other, and both shows have grown as a result of the partnership. Stitch brings a much needed forward level of innovation to the menswear market".

Fashion buyer, Geraldine Florin of French department store, Galeries Lafayette, commented in February "We love the space and layout of Spirit. It is really nice to see the diversity of young fashion brands and is very different to any other trade show we have been to before. We have seen lots of great UK designers and have been very inspired".

Making it easier for visitors, the free London red buses will run every 10 minutes between venues.

The contemporary and premium womenswear, footwear and accessories showcase will take up two levels of London Olympia. Returning brands such as Sandwich, Marimekko, Kaffe, Cream, Mexx, Second Female, Fenn Wright Manson, Joules, Fever, Darling and Nougat all showcasing in the Directional section.

A mix of contemporary brands offering timeless pieces and effortless elegance will be on offer in the Studio section including Elisa Cavaletti, Mais il est ou le Soleil?, Lilith, Carlopik, Sahara and Isabel de Pedro.

Boutique will return with a range of stylish evening and occasion wear brands from the likes of Faviana, Ispirato, Ian Stuart London, Linea Raffaelli, Presen of Barcelona, Anoushka G, Michaela Louisa and A Right Charlie.

Located next to the Inspiration Catwalk, Pure Premium will once again play host to high-end bridge-collections. Goat, Jofama, Ann Louise Rosawald and Wondaland will, among many other brands, be presenting their latest collections for buyers to browse.

Returning to the Upper Gallery will be the Accessory and Footwear showcase. Get an overview of some of the best accessory brands including, Mischa Barton, Kate Benjamin, Nour, Smith & Canova, Anna Lou of London, WishList and Abbacino. British fashion designer, Zandra Rhodes will return to the show with the exclusive launch of her vintage inspired jewellery. Resulting from a brand new collaboration with reputable jewellery designer, Adele Marie, the collection incorporates the designer's original textile work, with a focus on the dramatic and unique prints that Zandra Rhodes is renowned for.