'Handicrafts have high export potential'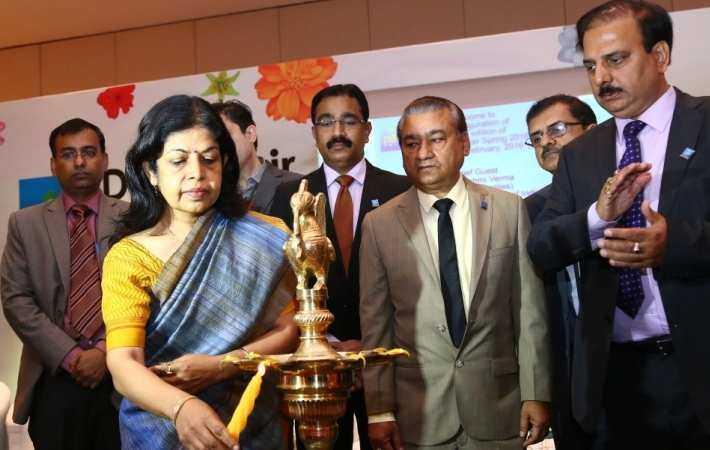 Textiles Secretary Rashmi Verma has said that the handicraft sector has high potential for exports and job creation. Her comments came during the inauguration of the 41st edition of India Handicrafts and Gifts Fair, now renamed "IHGF - Delhi Fair Spring" 2016 at the world class venue of India Expo Centre and Mart, Greater Noida at the weekend, the Textiles Ministry said in a press release.

The fair which will b one till February 23, has been organized by the Export Promotion Council for Handicrafts (EPCH) since 1994.

More than 2800 exhibitors including permanent marts are displaying houseware, home furnishing, furniture, gifts and decoratives, Christmas and festive décor, carpets and rugs, fashion jewelry and accessories, spa and wellness products, bathroom accessories, leather bags, lamps and lighting, stationery, educational toys and games in the IHGF-Delhi Fair Spring 2016.

In her inaugural address, Rashmi Verma said that handicrafts is an important sector both from economic and social point of view. "The uniqueness of this sector lies in its high export potential, low capital investment requirement and immense scope for generating employment and generating job opportunities particularly for economically and socially backward sections of the society," she said.

She said that the Textiles Ministry has undertaken various developmental and promotional activities through its on-going schemes such as creating mega clusters, common facility centres and design development and technology upgradation centres.

After visiting various stalls of the participating companies, she appreciated the wide range of high quality products on display. She also advised the exporting community that adequate emphasis should be laid on new designs and product innovation to retain the share of Indian handmade products in the world market as lifestyles across the globe are changing very fast.

Verma applauded the efforts of EPCH for constantly organizing this fair for the last 22 years, besides for other measures taken by it for promotion of exports of handicrafts from the country.
Dr. K. Gopal, Development Commissioner (Handicrafts) said that this event has created a common platform under one roof, for exporting and buying community; he called the IHGF-Delhi Fair a classic fair which is based on consumer demands.

Rakesh Kumar, Executive Director, EPCH, said that the Council has chalked out a three pronged strategy to promote the exports of handicrafts, focussing its efforts on products, clusters and markets. The Council has been participating annually in more than 35 fairs and exhibitions being organized in different countries and in exploring new markets in Latin American, CIS, ASEAN and African regions where exports of Indian handicrafts is negligible.