Colorjet showing Fabjet Grand printer at GTE 2016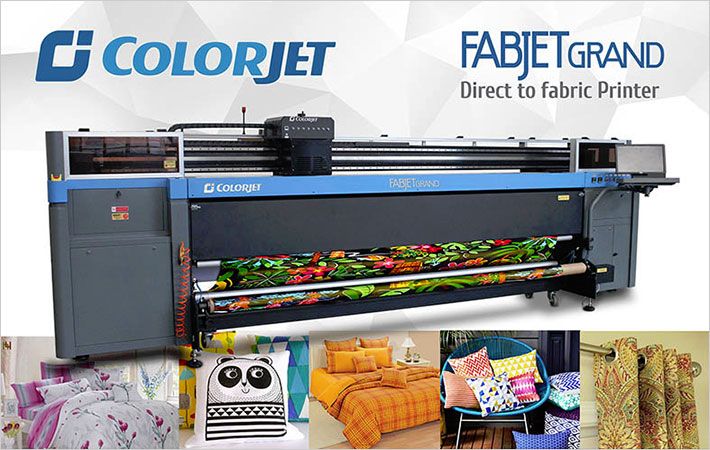 India's biggest digital printer producer, Colorjet Group is showing an eco friendly digital textile printing machine which uses water based pigment inks at GTA 2016, being held in New Delhi in Hall E, Stall E-5.

According to a Colorjet press release, the Fabjet Grand is a commercial grade 3.2 metres wide digital textile printer and uses water based pigment ink.

"The Fabjet Grand is suitable for the customised home furnishing textile segment, particularly for producers of home décor products like curtains, bed covers and sofa covers," the company said.

"The printer delivers high productivity enabling high daily printing volumes and outstanding runnability for overnight printing without bending and colour deflection," Colorjet added in the press release.

Advantages of the eco-friendly Fabjet Grand include that it is suitable for all types of fabric, whether natural, synthetic or blends.

The printing process uses Pigment Inks eliminating the need for any additional process such as pretreatment/coating, steaming and washing steps thus eliminating energy and water consuming steps.

"The time required for finishing apparently becomes negligible since no post process after printing is required, thus time to market gets shortened," Colorjet observed.

"Fabjet Grand is an investment which creates the economies of scale since no other process is involved and the printing can be done directly on the fabric," it noted.

Alongside, the company will also be showcasing Vastrajet; a commercial grade entry level digital textile printer offering production speeds of 4,000 metres per day.

"This speed meets the normal daily requirements of a textile printing house, while being suitable for natural as well as polyester based fabrics like georgette, moss crepe, weightless, chiffon, etc," Colorjet stated.

As per Colorjet, the high speed is achieved through specially designed jetting controls to optimise printheads performance and to match the high jetting frequency.

The mechanical structure too is excellently designed to handle high speed production and precise dot placements, while the new bundled software offers up to 20 per cent on cost saving in inks.

"Apart from the price being very competitive, our digital textile printers are manufactured at a state-of-the-art manufacturing facility in India itself," Smarth Bansal, brand manager at Colorjet said.