Colorjet to debut digital printer Metro at Garfab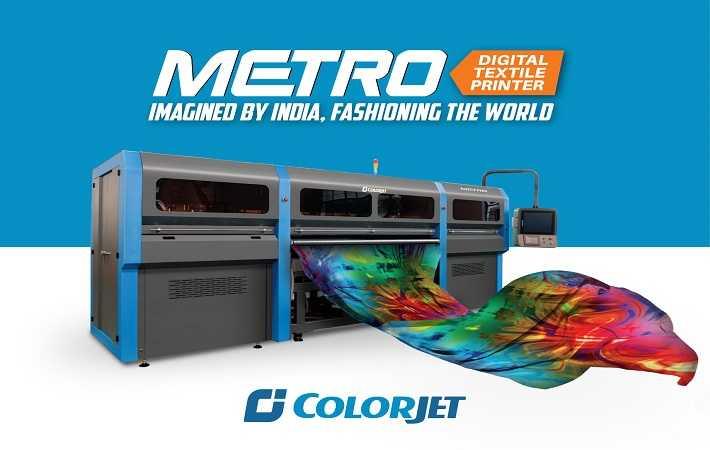 Following good reviews and orders received at ITMA 2015, Colorjet Group is now launching the Metro digital textile printer at Garfab 2016 to be held from March 18-20, 2016 in Surat in stall B-8.

"The Metro, while operating at a maximum speed of 362 sq. metres per hour, is a truly advanced high speed industrial grade digital textile printer, which incorporates the latest technology," a press release informed.

"The high speed is achieved through specially designed jetting controls to optimise print heads performance, to match the high jetting frequency," Colorjet added in the press release.

"Compatible to work with all types of inks like reactive, disperse and pigment, this printer weaves magic on a variety of fabrics," India's biggest digital printer producer observed.

The Metro prints on any kind of fabric, ranging from 0.1mm to 30mm including cotton, polyester, silk, viscose, wool, nylon, acetate and various blended fabrics.

"With awesome scalable properties, this printer can suit all the needs of the textile printing business and delivers in the least payback period and is capable of meeting the ever changing requirements," the company noted.

According to Colorjet, at Garfab, visitors will be able to witness how the Metro has been synchronised and engineered specifically to produce the best results with pigment inks.

"Its unique value proposition for customers is the synchronised technology to ensure smooth firing of jetting assembly for faster and smoother productions with pigment inks," Colorjet stated.

Automatic temperature control enables printheads to deliver same print results with Pigment inks, while specially integrated VPC technology ensures smooth flow of pigment ink for uninterrupted production runs.

Alongside, Colorjet will also be showcasing Vastrajet; a commercial grade digital textile printer offering production capacity of 4,000 metres per day, which meets the normal daily requirements of a printing house.

The Vastrajet, while being suitable for natural fibres made fabrics is also compatible with polyester based fabrics like georgette, moss crepe, weightless, chiffon, etc.

"Apart from the price being very competitive, since our digital textile printers are manufactured in India itself, buyers of our machines are eligible for various benefits under EPCG and TUFS," brand manager, Smarth Bansal said.