Groz-Beckert to present latest products & services at ITMA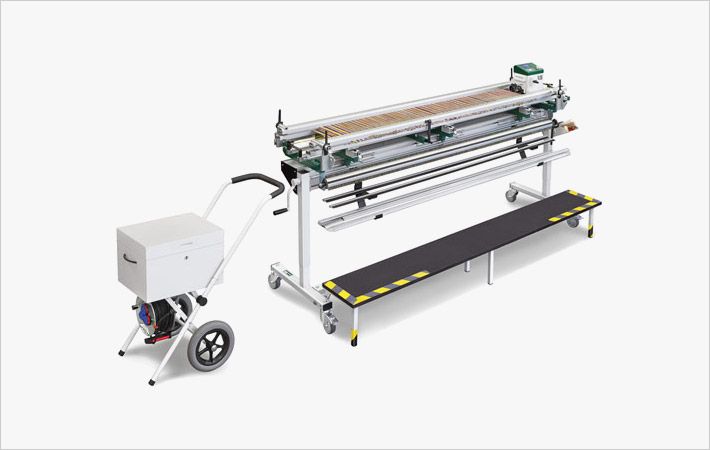 In hall H7, booth D-124 at ITMA 2015, Groz-Beckert will present innovative products and services as well as its new booth concept with machines made of acrylic glass and for the first time, showcase its carding division.

According to a press release from the German company, by means of transparent knitting and warp knitting machines, visitors will be able to visualise the precision of its products and their perfect interaction.

"The individual elements can be removed and eyed in detail and visitors will experience how this interaction can contribute to an increase in productivity and profitability," it said.

In the segments of cleaning, drawing-in, knotting and weaving, Groz-Beckert will show a wide range of machines for weaving preparation, among others the fully automatic drawing-in concept 'Warpmaster'.

Alongside, it will also display different knotting machines from the Knotmaster series for various and different application areas.

The machines will be demonstrated on common tying frames with clamping rod or clamping rail tension system, while weaving accessories will be presented on a transparent model of a weaving machine.

Depending on the application, the displayed fabrics vary from tire cord to jacquard fabric, each shown along with the corresponding Groz-Beckert products.

"The Twintec weaving heald is available in different ceramic and steel variations, depending on the tape width and application, moreover, high-performance heald frames with high bending strength, will be exhibited," it added.

In the felting segment, the company will highlight special needle solutions for filtration felts and will also feature a needling machine made of acrylic glass.

"Thanks to the variety of barb sizes, barb shapes, working part gauges and working part cross sections of the individual needle types, Groz-Beckert can offer the ideal felting needle for all needled filter media," the company stated.

If a high surface quality is desired, Groz-Beckert recommends a combination of Gebecon and Ecostar felting needles.

It further informed that the stability of the Gebecon needle provides a high surface quality in the preneedling process, while in intermediate and finish needling, the Ecoctar needle gives a high surface quality to the finished product.

"And, where high efficiency is the priority, the Twisted needle with its twisted working part is the right choice," it observed.

Technologies in the tufted segment will also be shown through a transparent machine model, which is an advanced gauge part system, consisting of tufting needle, looper, reed finger and tufting knife.

"For all applications and machine types, from monofilament to soft fibre yarns, from artificial turf to high-class carpet, we offer solutions to satisfy the high quality expectations of customers," the company noted.