Tajikistan's textile output dips 10.2% in Jan-July'13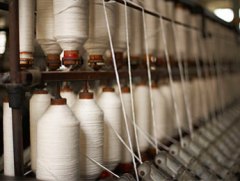 The production of textiles and garments in the Central Asian country of Tajikistan decreased by 10.2 percent year-on-year and were valued at 442.5 million Somoni (approximately US$ 91.8 million), according to the data from the Ministry of Energy and Industry.
The decrease in textile and clothing production was due to the 30 percent decrease in production of cotton, Avesta news agency reported.
During the same period, Tajikistan exported textiles and clothing worth US$ 137 million, which was US$ 14.4 million or 9.5 percent less than the exports made during the corresponding period of last year, according to the Customs data.
Of the total textile exports of US$ 137 million, exports of cotton accounted for US$ 112.8 million.
Fibre2fashion News Desk - India