Bremen Cotton index firms up after short decline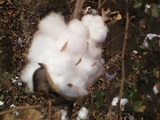 Considerable amplitudes to the top as well as to the bottom without any obvious trend shaped the development of the CIF Bremen index. After a short decline the index tended firmer by the end of the reported week.The currency development was in favour of closing contracts in Euro. In general the available quotations featured a higher level than many processors imagined.
There did not seem to be large pressure to order raw material for the current production. Nevertheless, some spinning industries made use of the short price decrease to purchase medium staple cotton for prompt delivery as well as for the next season. Prices of the long and extra-long staple range remained firm. No contracts were reported.
Contracts were concluded for:
-Medium Staple Cotton: USA EMOT for prompt. Central Asia and West Africa for prompt and the 2nd quarter 2014. Brazil for prompt and the 3rd and 4th quarter 2014. Greece and Spain for the 4th quarter 2014.
Bremen Cotton