Home Textile brand Elaiva draws 35,000 visitors at NY NOW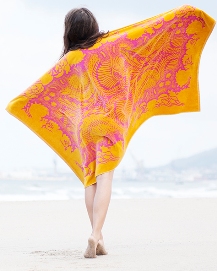 Elaiva - a new designer brand for home textiles, namely terry jacquard beach towels and bathrobes - marked its presence in the last edition of the NY NOW.
For a whole week – Febuary 1-6 –, the visitores were able to see the new collection and the reactions couldn't be any better.
Elaiva products made a difference in the show and surprised the public due to it's young and innovative philosophy, inspired by the warmth of the Mediterranean that raised the temperature in that week of snow in New York.
Drawing 35,000 attendees from USA and more than 80 countries, NY NOW hosts 2800 exhibiting companies showcasing the very best lines across the home, lifestyle and gift spectrum. The show is produced twice annually by GLM Markets and is open to the trade only.
Elaiva