Jack Daniels Club picks Anzea faux furniture leather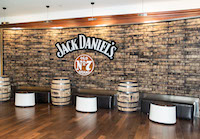 Anzea's textiles are on every piece of upholstered furniture in the Jack Daniels Club. Buckaroo, Simply Hide and A Tisket A Tasket are the Anzea faux leathers that were chosen for the new Jack Daniels Club.
These faux leathers deliver beautiful color, rich texture and lasting construction making them the perfect choice for any area that will have high traffic and that also requires high design.
The newly renovated Jack Daniels Club looks out over the Globe Life Stadium for a perfect view of the games to come. Not only is this view from a wonderful vantage point, but it will also allow the fans to enjoy the game in the utmost comfort.
About Anzea Textiles
Anzea was founded in 1990 by creative director Mitzi Mills and business partner Bruce Doeren. Since the company's inception, Anzea has focused on contract upholstery textiles offering the marketplace the option of leading edge colors, bold designs and high performance. These designs are reflective of Mills graphic design background, love of photography and travel.
Anzea Textiles