Jodhpur to see high-end bridal & lifestyle expo in May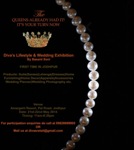 A high end lifestyle and wedding exhibition to be organized by Divas Events on 21-22 May in Jodhpur city located in Rajasthan which will last for two days.
The exhibition will be first of its kind of high-end lifestyle exhibition in Jodhpur where more than 30 designers from clothing, bridal wears, jewellery, accessories and wedding planners and other textile industry veterans will participate and showcase their products.
The show will be organized at Jodhpur's one of the most elite wedding resorts - Amargarh in a 9000 sq ft air-conditioned dome.
The months of May, June and July being traditionally the wedding months in Jodhpur; the two day Divas Events expects high end footfalls between 8,000 and 10,000.
Divas Lifestyle