Indian markets see clear drop in cotton prices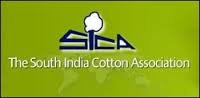 The monsoon has set in over all the agriculture belts in India and has covered the water scarcity faced by the farmers in very little time. The cotton markets are seeing a clear drop in prices in spite of the very low good quality unsold stocks that are lying with the traders and ginners in reflection to the huge drop in cotton prices in the international market. Cotton arrivals dwindled to a daily average of 12000 bales. Market prices have fallen unexpectedly and the trade source believe that the fall may further speedup and settle.

Almost 106 lakh are sown which is almost near the last season sown levels. South West monsoon is wide spread. Cotton crop volume would be assessed by next month due to delayed sowing wave. Textile Commissioner had called for a meeting on naturally coloured cotton development on 4.8.2014 where ICF had been invited. Indian Govt. approved the cotton program under Food security mission.

Punjab /Haryana/Rajasthan:
The cotton sowing is completed in the North Zone long back and the prices of ready delivery of J-34 cotton in Punjab was at Rs.4255/- per maund spot while in Haryana J-34 r/g was priced at Rs.4160/- per maund spot and in Rajasthan J-34 r/g was quoted at Rs.4150/- per maund spot.

Gujarat:
The rainfall was delayed in Gujarat region but has rained in abundance and is quickly filling up the dams and water bodies. The sowing of cotton is yet to be completed in many areas. The price for good quality S-6 was Rs.39,500/-spot per candy while good quality V-797r/g was quoted at Rs.26,500/-spot per candy.

Maharashtra:
There have been good and consistent rains all over Khandesh and Vidharbha region of Maharashtra. Marathwada region is still in need of rains. The prices for good quality 29mm Mech-1of Vidharba region is Rs.40,500/-Spot while average quality cotton of low micronaire is priced at Rs.38,000/-Spot per candy.

Madhya Pradesh:
Good rains are reported. Sprouting is visible in fields as per Farmers group and these areas will be maintained. Arrivals are almost nil. Cotton prices are steady on lower side.

Andhra Pradesh:
The rains have been delayed a bit but very good till now. Sowings has increased in Andhra Pradesh and crop may be more than the current season of 73 lakh bales. Good quality 29mm Bunny of Adilabad is quoted at Rs.41,000/-spot per candy while in Guntur 30mm Bunny quoted at Rs.43,500/-spot per candy.

Karnataka:
The rains were delayed but have been quite consistent after the delay there by some of the dams like Kabini over flowing. Sowings is good and crop may be delayed a bit. Right now cotton arriving in Guttal both Dch-32 quoted at Rs.57,000/-spot and Bunny 31mm quoted at Rs.44,000/-spot is good but moisture content is high in the cotton.