NY cotton futures poised to move higher in near-term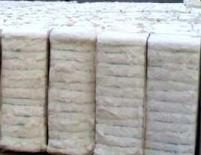 New York futures moved higher this week, as December gained 125 points to close at 65.92 cents.

So where does the market move from here?

Technically the market looks poised to move higher in the near-term. Yesterday's up move was the market's strongest showing since early May and with speculators and other-reportable and non-reportable traders sitting on 6.8 million bales in outright shorts, there is some fuel for a rally.

The question is how aggressive will trade selling get as the market tries to move higher? The best guess is that selling pressure will intensify from about 67/68 cents onwards, the latest Plexus cotton report reveals.

From a fundamental point of view the market's strength makes sense at the moment, because cash cotton for nearby shipment has been hard to come by and higher prices are therefore needed to flush some supplies into the marketing channels.

However, barring any crop problems, this has to be treated as a countertrend rally and assume that bearish forces will return once the bottleneck situation has been resolved.

After December had traded in a 200-point range for twelve straight sessions, it finally broke out to the upside on Wednesday on what appeared to be spec short covering.

It did so on, expanding volume and rising open interest, which is constructive, with today's close marking the highest level in four weeks.

After it became evident over the last couple of weeks that speculators were no longer forcing the market lower and growers were not ready to part with their crops in the low 60s, it was just a matter of time until the downside momentum was going to roll over.

With the market trading sideways for the last three weeks, moving averages caught up to the lower price level and when December reached above its 21-day moving average and recent highs on Wednesday, some buy stops were triggered.

The increase in December open interest seems to indicate that spec shorts got out, while the trade used the opportunity to increase its short hedge position.

As repeatedly stated, growers are considerably behind in selling or hedging their crops compared to previous seasons, with the latest CFTC report as of August 12 showing that just 3.4 million bales were traded, compared to 16.0 million bales a year ago.

The market continues to await details of China's new cotton policy. With reserve sales ending at the end of this month, an announcement is due any day now.

The worry is that the market has already discounted an overly bearish Chinese scenario and if subsidies were to fall short of expectations, there could be a bullish reaction in China, which in turn would translate into firmer international prices.

Over the last three seasons, the market has continuously underestimated Chinese imports. For the just ended 2013/14-season, USDA estimated Chinese imports at 11.0 million as recently as March, before gradually increasing the number to 13.6 million bales in its most recent report.