NY cotton futures trend higher this week led by Dec rally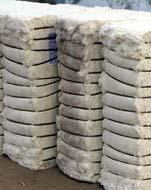 Led by a strong December that rallied 264 points to close at 68.09 cents, New York cotton futures trended higher this week.

Nearby supply worries and positive chart signals combined for a strong performance in the cotton market this week, pushing December to its highest close since July 23.

The spot month crossed above its long-term downtrend line dating back to early May, when the current bear market originated. In doing so, it also moved above its 20-, 40- and 50-day moving averages and turned momentum indicators bullish.

"What all the above means is that spec shorts got a strong buy signal this week and are now exiting some of their positions, while at the same time there may be new spec longs entering the market", the latest Plexus cotton market report informs.

The most recent CFTC report showed that large and small specs had around 7.0 million bales in outright shorts, which is plenty of fuel to keep a rally going for a while.

Overhead trade selling counteracts this spec buying, but most traders try to avoid December and are placing their bearish hedging strategies in March and May instead.

This in turn has forced the Dec/March inversion out to 113 points as of today's close, as December has gained nearly 200 points on March over the last three weeks.

The latest USDA Supply/Demand report added fuel to the December rally, as its numbers exacerbated nearby supply concerns.

First off the USDA lowered US beginning stocks by 150,000 bales to 2.45 million bales, which is the lowest reading in 23 years. It further cut US production by 964,000 bales to 16.54 million bales as a result of 360,000 fewer harvested acres and a drop in yield from 820 to 803 lbs/acre.

"While there may have been some abandoned dry land acres in Texas and Georgia, would it not make sense for the yield average on the remaining crop to go up", the report queries.

Not according to the USDA, which predicts yields to be the third lowest in the last eleven seasons. This seems to contradict the USDA's own crop condition report, which currently shows the 2014 crop as the second best in the last five seasons.

While the US numbers were supportive, especially in regards to nearby deliveries, the rest of the WASDE report looked a lot less inspiring. It forecast production increases of 1 million in India, 0.29 million bales in West Africa and 0.25 million bales in Turkey.

All these more than offset the US shortfall, while global mill use was lowered by 0.48 million mainly due to a downward revision in Pakistan, the report explains.

A worrisome trend is the slide in imports, which were lowered further this month and now amount to a mere 35.2 million bales, or 5.2 million bales less than last season and 10.6 million bales below the record 45.8 million bales of 2012/13.

The fact that China is expected to take in only 8.0 million bales this season is of course the main factor behind this drop in global trade, but the report of some other prominent markets saw their import needs lowered as well, such a Pakistan by 0.6 million bales, India by 0.3 million bales and Turkey 0.25 million bales.