Denim Zone expands 25% at Intertextile Shanghai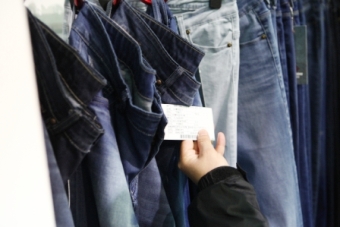 Following the success of last year's denim zone, the newly designed and enlarged 'Beyond Denim' hall at the 2014 edition of Intertextile Shanghai Apparel Fabrics 2014 will feature around 150 exhibitors from six countries and regions.

The space of the denim zone is up 25% from last year's edition at Intertextile Shanghai Apparel Fabrics which runs from October 20-23, 2014 at the Shanghai New International Expo Centre in China.

This year's fair will also be spread across 15 halls, with over 3,800 international and domestic exhibitors featured across more than 170,000 sq meters of exhibition area.

"Some of the highlights on display this year include examples of new wash innovations, the latest technologies, sustainable production practices and premium denim in Beyond Denim Forum," organisers of the fair – Messe Frankfurt said.

It added, "The expanded hall gathers most of the leading domestic denim manufacturers, denim designers and marketing firms, as well as international denim fabric exhibitors."

Textil Santanderina SA is of the opinion that their high-end Spanish products will do well in the Chinese market.

Their collection includes faded finishes, new digital prints inspired by nature and poetry, cotton/Lycra and 100% Tencel fabrics, and jacquard styles inspired by a Bohemian soul and the spirit of old cities that leads to rustic, textured, delicate and aged looks.

American & Efird another supplier from USA, will feature its major products, which include corespun threads with NWT technology and textured threads which incorporate quality trims.

In addition to denim products, accessories and functional fabrics are also a highlighted product category this year.

Over 550 domestic and international accessories suppliers will feature in two halls, with both garment and fashion accessories on display.

Buyers will be able to find a wide range of exciting new accessories at the fair including a selection of zippers, buttons, lace & embroidery, linings / interlinings, threads, labels, hangtags, tape, appliqués / sequins / beads / rhinestones and fashion accessories.

An Accessories Trend Forum will also be located in hall E7 next to the overseas accessories zone displaying a variety of products reflecting the upcoming trends.

Esquel Enterprises Ltd, an exhibitor from Hong Kong will offer a wide selection of eco-friendly trims. Their one-stop branding and packaging solutions provide buyers with flexible and effective solutions for the low-end, mid-range and high-end luxury markets.

Mirroring current trends in the textiles industry, functional fabrics products are the other focus areas at the fair.

"The exhibitors taking part are looking to benefit from the increase in demand in China for functional fabrics and see the fair as the best way to do this," Messe Frankfurt informs.