Ube Industries shuts one CPL line for maintenance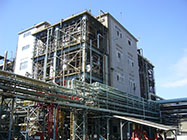 Japan-based Ube Industries Ltd. has shut one of its two caprolactam (CPL) lines for maintenance turnaround.
"One CPL line was shut for maintenance on October 1, 2014. This line is likely to remain shut for around one month," a company official told fibre2fashion.
The CPL lines are located in Ube city and each line has capacity of 45,000 tons per year.
Normally, Ube shuts one of its two CPL lines for maintenance in September or October every year, according to the official.
CPL is mainly used for production of fibres and filaments made of Polyamide 6, used in the textile and other industries.
Fibre2fashion News Desk - India