Mixed reactions in New York cotton futures last week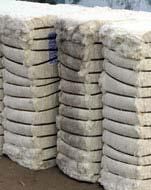 New York cotton futures witnessed mixed reactions last week, with the soon to expire December losing another 119 points to close at 58.54 cents/lb, while March gained 11 points to close at 58.86 cents/lb.

Liquidation of the December contract took centre stage last week, as traders were busy getting out of positions ahead of the First Notice Day.

Neither bulls nor bears seem to have any interest in getting involved in the December delivery, as open interest was already down to just 3,585 contracts or 358,500 bales before Friday's session, during which another 3,750 contracts exchanged hands, reducing remaining bets even further.

With December closing at 58.54 cents/lb on Friday, it is probably close to its fair market value. From a potential buyer's perspective the current price probably works, but given the quality uncertainty, the lack of carry to March and the fact that bales taken up against December probably will not make it on a boat before early January, it may not be worth the trouble.

From a seller's perspective, deliveries would only make sense for some undesirable qualities, because the cost of bringing cotton to the board is prohibitive at the current price level and not surprisingly, there were no notices issued for the First Notice Day, a report from Plexus Cotton informs.

With the December notice period turning into a non-event, the focus is now squarely on March, which did not move much at all this week.

The upside continues to be capped by the nearly 9 million bales of US cotton that remain unsold in a market that may have difficulty drumming up much interest, since its three main buyers China, Turkey and Mexico are expected to be a lot less active than usual during the remainder of this marketing year.

Although the market feels heavy, the unusually slow movement of the US crop into marketing channels has so far prevented values from caving in.

When looking at the latest Electronic Warehouse Receipts report and the weekly export shipments, there is more than just anecdotal evidence that farmers continue to withhold cotton in an effort to maximize their loan deficiency payments.

As long as the Adjusted World Price (AWP) is trending lower week after week, growers will continue to hold back both their sold and unsold cotton in order to capture additional payment benefits.

Under the US loan program, a grower has the option to put his cotton into the government loan, for which he gets paid 52 cents, and he then has 9-10 months to buy his cotton back at the AWP which is currently 46.12 cents or at the loan plus carrying charges, whichever is cheaper.

Another option is for the grower to forego the loan altogether and to get paid the difference between the loan and the AWP, which currently amounts to 588 points.

The AWP first dropped below the loan level in late September, or about the time when the US crop started to get harvested, and has trended lower ever since.