Low yield offsets global cotton acreage hike this season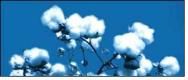 According to a USDA December report, global cotton output in 2014/15 is forecast at 119 million bales, slightly below the previous season as a yield reduction more than offsets increased area.

"Considerable production declines in 2014/15 for China and Brazil counterbalanced the increase for the United States," the US agency reveals.

Global cotton area harvested in 2014/15 is forecast at 34.3 million hectares, up from last season but similar to 2012/13.

The world cotton yield is forecast at 755 kg/hectare, the lowest since 2009/10, while output for the top two producers, India and China is projected at 31 and 30 million bales, respectively.

For India, the production forecast matches the 2013/14 record and includes an all-time high area of 12.75 million hectares.

In contrast, production in China is forecast to decline from nearly 32.8 million bales in 2013/14, as area is reduced to 4.4 million hectares, the lowest since 2000/01.

Pakistan's crop is forecast at 9.8 million bales in 2014/15, 3 per cent above last season and largely attributable to rising yields.

On the other hand, the cotton crop in Brazil that is planted in December and January is forecast to decrease about 13 per cent to 7 million bales as the decline in world prices reduces area expectations.

Global cotton mill use in 2014/15 is forecast at 112.6 million bales, 3 per cent above the previous season.

Among the major cotton mill users, all countries, except Brazil are projected to expand between 1-7 per cent in 2014/15.

Cotton mill use in China, estimated at 37 million bales in 2014/15, is projected to grow 7 per cent after several seasons of decline and as against a record 51 million bales in 2007/08.

Recent policy announcements will support cotton consumption by bringing domestic prices in line with world prices.

"In particular, lower prices will raise the incentive to spin cotton within China rather than import cotton yarn as in recent years," the USDA informs.

In the previous season, China imported an estimated 8.6 million raw-cotton equivalent bales in the form of yarn and in 2014/15 yarn imports may decline approximately 15 per cent.

Cotton mill consumption in India and Pakistan, both benefactors of China's recent growth in yarn imports is only expected to grow slightly in 2014/15 as a result of China's rebound.

India's mill use is forecast at 24 million bales, up about 3 per cent, while Pakistan's use is estimated at 10.5 million bales, 1 per cent higher.

In addition to China and the US, cotton mill use in Vietnam is forecast to expand more than 6 per cent, reaching a record 3.4 million bales in 2014/15.

Mill use in Bangladesh and Brazil are forecast to change about 5 per cent in 2014/15, offsetting one another.