2014/15 US cotton crop up 25%: USDA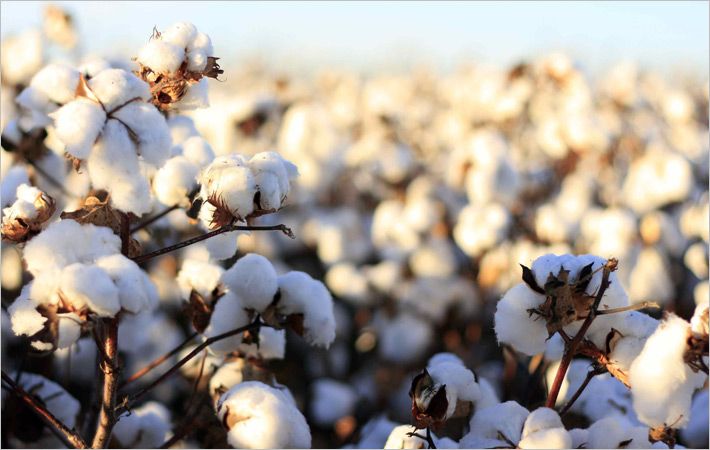 The latest USDA estimates for the 2014/15 US cotton crop stays estimated at 16.1 million bales compared with last season's 12.9-million bale crop, or nearly 25 per cent.

Out of this, upland cotton amounts to 15.5 million bales and extra-long staple cotton totals to 588,000 bales for the 2014/15 season, USDA said in a press release.

Based on the current crop estimate and beginning stocks of nearly 2.5 million bales, the 2014/15 cotton supply totaled 18.5 million bales, 11 per cent above a year ago but below previous 5-year average of 20.3 million bales.

Total US cotton demand is estimated at 14.35 million bales in 2014/15, 2 per cent above 2013/14 and US mill use forecast this month remains at 3.65 million bales, 100,000 bales higher than last season.

Similarly, US cotton exports are projected at 10.7 million bales, again around 2 per cent above the previous season.

Through the first six months of 2014/15, US textile mills used 1.7 million bales of cotton, slightly below the amount used during the first half of 2013/14.

However, cotton mill use has risen in recent months and is expected to improve further in the second half of the season to reach its highest level in 4 years.

US cotton exports in 2014/15 are forecast about 200,000 bales above last season, due mainly to a global shortage of high-quality machine-harvested cotton.

Despite foreign import demand at a 6-year low, largely due to lower import demand by China, the US share of world trade is forecast at 31 per cent, 5 percentage points above 2013/14.

U.S. cotton export commitments through the first 7 months of 2014/15 have reached 9.9 million bales.

According to USDA, shipments, however, have only approached 4.9 million bales or 46 per cent of the current forecast, as supplies available for export was limited during the first half of the season.

A year ago at this point in the marketing year, shipments of 5.9 million bales accounted for 56 per cent of final 2013/14 exports.

To reach this season's export estimate of 10.7 million bales, shipments need to average approximately 264,000 bales per week, compared with the 282,000-bale average shipped during the past 8 weeks.

With US cotton production exceeding demand in 2014/15, ending stocks are forecast to increase. For 2014/15, US stocks are projected at 4.2 million bales.

This is nearly 1.8 million bales or a massive 71 per cent above the beginning level and the highest since 2008/09.

Based on the latest supply and demand estimates, the 2014/15 stocks-to-use ratio is projected to climb from 17 per cent in 2013/14 to 29 per cent, the highest in 6 years.

The average price received by US upland cotton producers is expected to decrease from 2013/14's 77.9 cents per pound.

Lower prices are prevailing this season, with the 2014/15 upland price projected to range between 59 and 62 cents per pound and at the midpoint of 60.5 cents per pound, prices would be the lowest since 2008/09.