All India cotton pressing figures reach 3.45 crore bales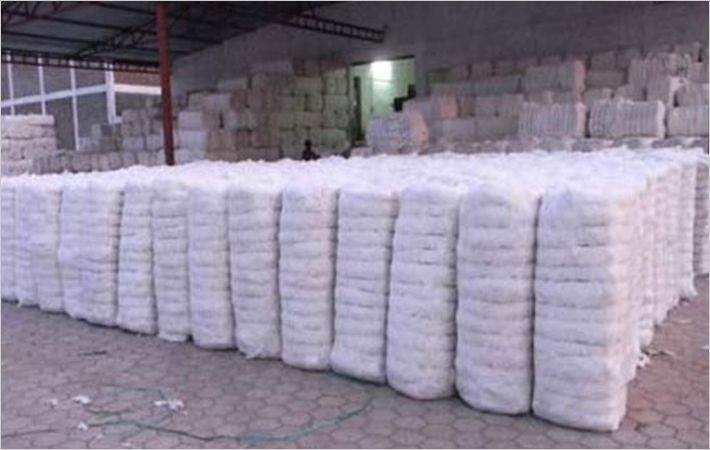 According to an Indian Cotton Federation (ICF) report for the fortnight ended May 15, 2015, as per trade sources, approximately 3.45 crore cotton bales have been pressed till now.

Quoting newspaper reports, ICF said it expects that in states like Gujarat and Maharashtra, farmers may shift from cotton to pulses and groundnut as they find cotton farming unviable due to untimely rains and lower than MSP prices.

Again quoting market sources, the report added that CCI has marketed 12 lakh bales through auction out of their stock of 86 lakh bales, which also includes 4.5 lakh bales of the Maharashtra Cotton Federation.

Cotton prices were on steady tone with an average demand from local mills. Since cotton is available price parity may be maintained subject to the smooth release of reserve stock by CCI and Federations.

USDA officials met ICF and SIMA office bearers to discuss current US, global and Indian cotton scenario on May 20, 2015 as part of their visit to Coimbatore.

Due to lack of export demand and also slow domestic off-take, ICF quoting market experts says the carry over stock may double from the last season's end stock.

Nearly 25 per cent cotton sowing has been completed in North zone, of which in Punjab, it is just around 5 per cent, while in Rajasthan, sowing has just started and in Haryana around 40 per cent sowing has been completed.

The price quoted for good quality J-34 R/G in Punjab is Rs 3870 spot per maund while in Haryana it is Rs 3740 spot per maund and in Rajasthan it is quoted at Rs 3770 spot per maund.

In Gujarat, approximately 1 crore bales have been pressed till now as per trade sources of which in Saurashtra approximately 64 lakh bales have been pressed while around 26 lakh bales has been pressed in North Gujarat.

Approximately 6 lakh bales have been pressed in stations near Bharuch and Surat while in areas surrounding Kutch, 3.5 lakh bales have been pressed and in areas near Himmatnagar, around 1.5 lakh bales have been pressed.

Good quality S-6 is selling at Rs 35,800 spot per candy while good quality V-797 R/G is sold at Rs 25,500 spot per candy.

Again quoting newspaper reports, ICF said farmers in many areas of Marathwada in Maharashtra may shift from cotton farming to pulses and other cash crops due to heavy losses incurred by them in the last three years. Here good quality 29mm Mech-1 is priced at Rs 35,800 spot per candy.

Seed cotton arrivals are almost nil in Madhya Pradesh and farmers are planning for next season and seed demand has started, while a few farmers have also started sowing in irrigated tracts. Mech-1 prices ruled at Rs 36,000 to Rs 36,500 spot per candy.

There has been good spells of rain in some pockets of Andhra Pradesh, which is not healthy for various standing agricultural crops.

The price of good quality 29mm Bunny in Adilabad was Rs 35,000 spot per candy while good quality 30mm Bunny in Warangal was priced at Rs 35,800 spot per candy while in Guntur 31mm Mcu-5 was sold at Rs 37,00 spot per candy.