USDA projects 2015 US cotton crop at 14.5mn bales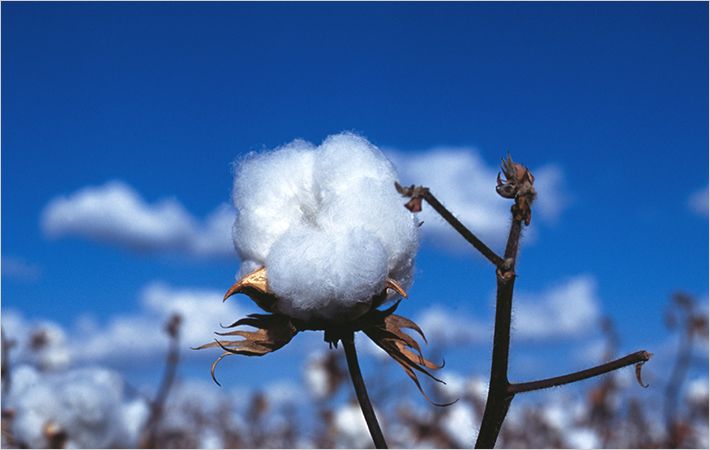 According to the latest USDA report, the 2015 US cotton crop is projected at 14.5 million bales, unchanged since May and 11 per cent below the 2014 crop.

"Despite a decrease in planted area reported in the June acreage report, expectations for a lower abandonment and a higher yield, offset reduced plantings," the report said.

Favourable precipitation in May and June eliminated drought conditions, particularly in the Southwest, but the rainfall in June kept plantings from reaching initial expectations.

Total cotton harvested area is estimated at 8.5 million acres in July, while US abandonment is based on the 10-year average abandonment by region, with the Southwest estimated at 7.5 per cent.

USDA forecast the US yield at 819 pounds per harvested acre, 19 pounds below last season, as a larger share of the Southwest's lower yielding acreage is expected to be harvested in 2015.

Yield expectations are based on 3-year average yields by region, with the Southwest adjusted to reflect the beneficial rainfall this season.

The report further added that as of July 12, 61 per cent of the crop was squaring, compared with 68 per cent last year and the 2010-14 average of 70 per cent.

Similarly, area setting bolls had reached 18 per cent by the same date as against 22 per cent in 2014 and a 5-year average of 24 per cent.

Again as of July 12, 57 per cent of the US cotton area was rated good or excellent, up from 53 per cent a year earlier, while 8 per cent was rated poor or very poor, down from 14 per cent in 2014.

For the current month's report, USDA informed that it has revised US demand and stocks for both 2014/15 and 2015/16.

For 2014/15, US cotton demand was increased to 14.55 million bales due to recent activity, while US mill use estimate was reduced 100,000 bales in July to 3.55 million bales, equal to the 2013/14 level.

Exports, on the other hand, were increased 300,000 bales as shipments through early July were stronger than previously anticipated.

According to the US agricultural agency, US cotton exports are forecast at 11 million bales for 2014/15, 4.5 per cent above the previous season.

Based on latest estimates, the US share of world trade is projected near 32 per cent, up from 26 per cent in 2013/14.

For 2015/16, US cotton demand was increased slightly to 14.55 million bales, matching the revised 2014/15 estimate.

US mill use is forecast at 3.75 million bales in 2015/16, a 50,000-bale decrease in July but a 200,000-bale increase from 2014/15, as additional spinning capacity comes online and is expected to elevate mill use.