Shoulder responsibility of leader with innovation, Feiyue President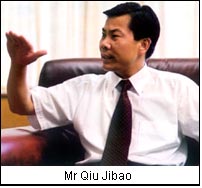 New Year's Speech of President of Feiyue Group: Qiu Jibao: 2008 New Year bell will soon ring. On the occasion of the coming of New Year, I would like to extend my New Year's greetings to all our global dealers, coordinative enterprises and customers, and our great gratitude to leaders at all levels and sectors of society who concern and support Feiyue in long term.

Joy accompanies sweat; success comes from hard work. 2007 is an important year for Feiyue to deeply carry out the concept of "Scientific Development", steadily put forward the 11th "Five-Year" plan.

Our company from top to down actively resolved a series of unfavorable factors, seized opportunities, based on the industry of sewing machinery, persisted in innovation with market demand as our orientation, fully implemented the strategy of independent innovation, upgraded productive structure, further consolidated global market system, steadily boost management promotion with "Excellence Performance" System as core content, completely promoted reputation of our brands, successfully accomplished all economic index.

In addition, Feiyue R&D center has been titled the name of "National R&D Center", our company won the special prizes of the "Excellence Performance" of the State Light Industry and the national model enterprise of harmonious enterprises, we also have been listed into the top 50 Global Competitive Chinese enterprises.

All these achievements have laid solid foundation for Feiyue to be the world class and the most excellent supplier of whole set sewing machinery.