Handicraft sector finally in focus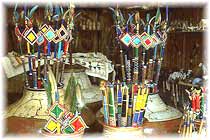 Peruvian handicrafts export has contributed immensely to the country's economic growth. By the end of 2007, the total export of these goods figured some where near US $142 million. As a result, this particular sector has become a lucrative enterprise for people who wish to benefit from foreign trade.

In other countries like China and India, handicraft had always played an important role in earning foreign revenues. When given an opportunity to participate in international exhibitions and events, these countries make the most of it. Of late, Peru has also taken the initiative to participate in a number of trade fair to give a thrust to its budding handicraft sector.

While India and China take up nearly 60-80 stands in these foreign trade shows, Peru manages to occupy about 20. However, each of these space costs nearly $10,000 and Peru would really need to keep pace with its rivals to win the stiff race of competition.

The US is one of the largest markets for Peruvian handicrafts as well as for products of other countries. It therefore becomes imperative to participate in trade fairs since it allows buyers, retailers and distributors to come in contact for mutual trade purposes.

Peruvian craftsmen need to realize that in order to tap the US market, need of the hour is to produce goods with a blend of beauty and tradition along with an instantly catchy functional aspect of the product.