Richard Hough develops Geotextile Calendering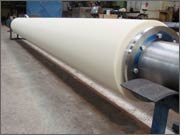 Richard Hough Limited (RHL) of Bolton, England - a specialist in the manufacture of calender rolls for over 200 years, have recently introduced a high performance polyamide textile calender roll cover to their range.

RHL have recently delivered two of the largest polyamide rolls ever produced. The 240inch face length Syncast rolls were supplied to the US to upgrade an existing Geotextile non-woven calender.

Roll edge marking and web defects due to roll surface marking have been virtually eliminated, meaning greatly reduced quality defects and significant savings in production costs.

Syncast Polyamide covers over existing Cotton filled rolls revolutionizes Geotextile calendering.

The exciting news for existing Geotextile calender users is that Syncast covers can be fitted over existing Cotton filled calender rolls.

The largest capacity centrifugal casting facility in the industry allows them the ability to do this.

Premium paybacks can be gained due to low cost of the upgrade (no major calender rebuild required), and resultant productivity improvements, less regrind maintenance, higher sheet quality, better efficiency and less scrap.

Syncast is a uniquely elastic, thermoplastic polymer that has been specially developed for textile calender rolls.

Syncast roll covers are centrifugally cast at high speed (2000rpm), ensuring the expulsion of all air bubbles and impurities from the cover.

Internal stresses are minimised as Syncast is cast at temperatures below the melting point of the polymer.