Craft expo to fortify trade relation with Russia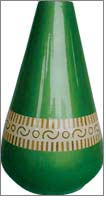 Hanoi, the capital of Vietnam is hosting a handicraft exhibition. The expo, which began yesterday and is scheduled till the end of the month, has been organized in an attempt to make the trade relations between Vietnam and Russia stronger as well as harmonious.

Both the countries are showcasing their magnificent and world renowned traditional artifacts, here.

Russian Centre for Science and Culture and Vietnam ARTEXPORT Company has jointly organized this event. There is an immense variety of home furnishings made of bamboo and rattan, and carved wooden pieces alongwith lacquer items displayed at the event.

Prominent personalities like deputy director of the Russian Centre for International Co-oreation on Science and Culture and representatives from China, the Republic of Korea, Malaysia, Cambodia, Indonesia and Mongolia and other dignitaries were present at the opening ceremony.