Winter Crafts Mela gets hot thru high sales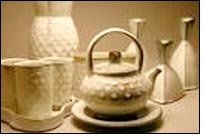 The Winter Craft Bazar Mela, which is held at the Hapta Kanjeibung, Imphal, has already become a success. The exhibition is organized by the People's Education for Awareness and Community Empowerment Organization, PEACE, Thangmeiband under the sponsorship of Development Commissioner for Handicrafts, Ministry of Textiles, Government of India.

Chandam Sanalata, The IFP, secretary, PEACE firmly believes that the expo is a way of helping the unemployed and to provide some kind of financial help to the local artisans to certain extent. Though there is market for handmade products in the state, such collaborations are vital to earn big profits.

Handicraft items made from cane and bamboo, jewellery, dry flowers, karena craft, wood and stone carvings, hand embroidery, artistic textiles, woolen shoes, dolls and toys, pottery and agarbati are being showcased here.

The response of visitors has been great so far, with total sales reaching nearly Rs55,000, within the first four days, itself.